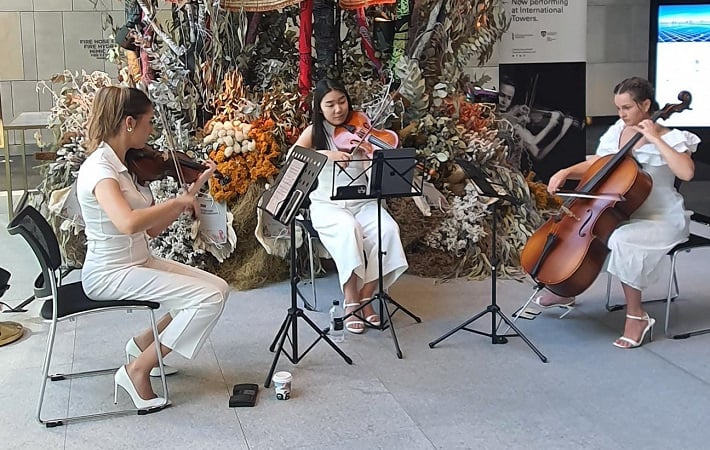 Lobby performances from the Sydney Conservatorium of Music return
As part of our ongoing cultural partnership with Sydney Conservatorium of Music, we will once again fill our lobbies with music performed by local budding professional musicians.
The partnership has seen aspiring talent – current students and recent graduates from the Conservatorium - given the platform to perform their own music within the lobbies of Tower Two and Tower Three.
Every day (Monday - Friday) morning and lunchtime, performances by soloists and groups will be held from 1st to 21st December. They will deliver a diverse soundtrack of musical styles for our community to enjoy, including acoustic folk, classical voice, contemporary, and a string quartet.
When: December 1-21, 2022 Weekdays, morning and lunchtime.

Where: International Towers, Tower Two and Tower Three Lobbies
Here's a list of musical artists you should watch out for:
Glass Saxophone Quartet


Grace Barr

Grace Barr is a songwriter & banjo player, inspired by old-time/country music, she performs with Yolanda Frost (drums) and Antony Yousseff (fiddle)


Melanie Aimee Quintet

Paris-born Australian of African heritage, Melanie Aimee is a jazz composer, vocalist and lyricist, improviser of music and words, irresistible dreamer, whose artistry embraces her cosmopolitan musical roots. Hailing from the Sydney Conservatorium of Music in Jazz and improvisation studies, her band performs arrangements of standards and original works taking you on a soulful musical journey rooted in jazz, to African grooves, Brazilian bossa nova, blues and contemporary improvisation. She makes music where heartfelt human stories meet colourful rhythms and harmony, to bring more joy to this world.


ALEKS MATIC & Friends

ALEKS MATIC is a singer/ songwriter from South-West Sydney, writing and performing songs that are both personal and reflective of the world around him. Growing up in the suburbs helped him write lots of his songs which lyrically and sonically represent the life he has had in them. He currently studies at the Sydney Conservatorium of Music working to develop his music and songwriting skills. ALEKS MATIC draws influence from artists like Lana Del Rey, Lorde and Taylor Swift whose unique storytelling and voice inspired ALEKS MATIC to find and express his own voice through music.


Nick Perry Trio


Alexander Maltas


Amelia Thompson Duo


Aisha Goodman Trio


Ensemble Assorti


TR|N|TY

TR|N|TY is an Emo Indie Pop artist who utilises the Ukulele to create juxtaposing sounds and ideas in her music. She will be accompanied by the Soulful and Psychedelic sounds of Guitarist Aiden Bowie.


Brian Zhang

Brian Zhang is a fingerstyle guitarist who composes arranges, and performs multiple parts simultaneously on a single guitar. His ability to combine the melody, bass, harmony and percussion all seamlessly together with just one guitar leaves audiences absolutely stunned, both with original music and popular covers.