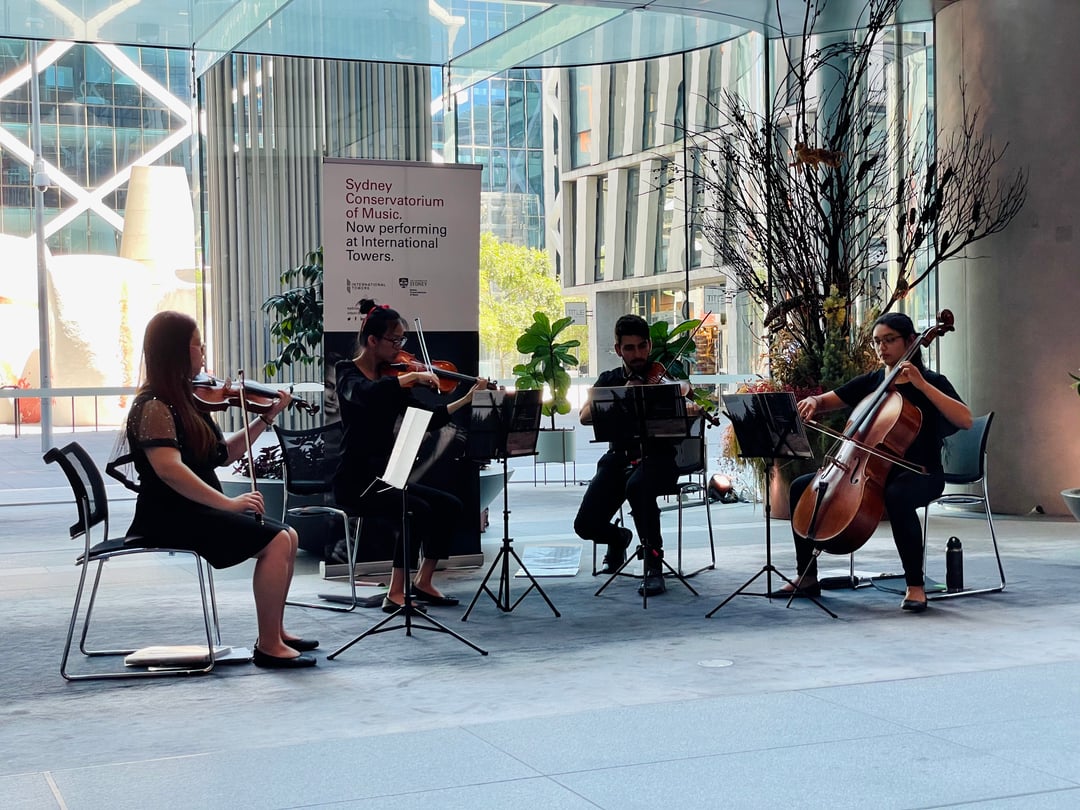 Festive season lobby performances with Sydney Conservatorium of Music
As part of our ongoing cultural partnership with Sydney Conservatorium of Music, we have filled our lobbies with music performed by local budding professional musicians.

The partnership sees aspiring talent – current students and recent graduates from the Conservatorium - given the platform to perform their own music within the lobbies of Tower Two and Tower Three.

Every day (Monday - Friday) morning and lunchtime, performances by soloists and groups will be held from 9th to 24th December. They will deliver a diverse soundtrack of musical styles for our community to enjoy, including acoustic folk, classical voice, contemporary, and a string quartet.
The Elevator District (duo)

---

Krisha Umali is a soul singer-songwriter with a voice as smooth as butter. Hailing from the promised land of South West Sydney, Umali's joyous music has influences ranging from Aretha Franklin to Lianne La Havas and is a music that quickly captivates. Having grown up singing at weekly family karaoke nights and joyful church choirs, you quickly realise why her shows leave you feeling both uplifted and restful. While fronting soul and funk band The Elevator District, playing solo gigs all over Sydney and completing her Honours degree at the Sydney Conservatorium of Music, Krisha's music and voice is not one to sleep on. After the successful release of her song 'Surprise Birthday' with The Elevator District, Umali's 2020 is set to make waves in the Sydney soul scene.

Quart-Ed


---

Quart-Ed is an emerging string quartet of music educators trained at the Sydney Conservatorium. They aim to create interactive performance programs that inform, educate and entertain. Through their work they strive to share all forms of string music, presenting popular, film, jazz, folk and Australian contemporary works alongside art music.
Jack Purdon (duo)


---

Proving to one of the finest and classiest background music for those receptions where the best tunes played at the right time can mean the best vibe, playing stylish background Jazz and Bossa Nova music to soothe your soul.
---
Performance Schedule
Week A
Time / Date
Monday,
7th Dec
Tuesday,
8th Dec
Wednesday,
9th Dec
Thursday,
10th Dec
Friday,
11th Dec
08:00 am
The Elevator District
-----------
TOWER 3
Quart-Ed
-----------
TOWER 3

The Elevator District
-----------
TOWER 3
12:00 pm
The Elevator District
-----------
TOWER 2 NORTH
Quart-Ed
-----------
TOWER 2 SOUTH

The Elevator District
-----------
TOWER 2 NORTH
Week B
Time / Date
Monday,
14th Dec
Tuesday,
15th Dec
Wednesday,
16th Dec
Thursday,
17th Dec
Friday,
18th Dec
08:00 am
The Elevator District
-----------
TOWER 3
Jack Purdon
-----------
TOWER 3
Jack Purdon
-----------
TOWER 3
Jack Purdon
-----------
TOWER 3
Quart-Ed
-----------
TOWER 3

12:00 pm
Jack Purdon
-----------
TOWER 2 SOUTH
The Elevator District
-----------
TOWER 2 NORTH
Jack Purdon
-----------
TOWER 2 SOUTH
The Elevator District
-----------
TOWER 2 NORTH
Quart-Ed
-----------
TOWER 2 SOUTH

Week C
Time / Date
Monday,
21st Dec
Tuesday,
22nd Dec
Wednesday,
23rd Dec
Thursday,
24th Dec
Friday,
25th Dec
08:00 am
The Elevator District
-----------
TOWER 3
Jack Purdon
-----------
TOWER 3
Quart-Ed
-----------
TOWER 3

Quart-Ed
-----------
TOWER 3

12:00 pm
Quart-Ed
-----------
TOWER 2 NORTH

The Elevator District
-----------
TOWER 2 SOUTH
Jack Purdon
-----------
TOWER 2 NORTH