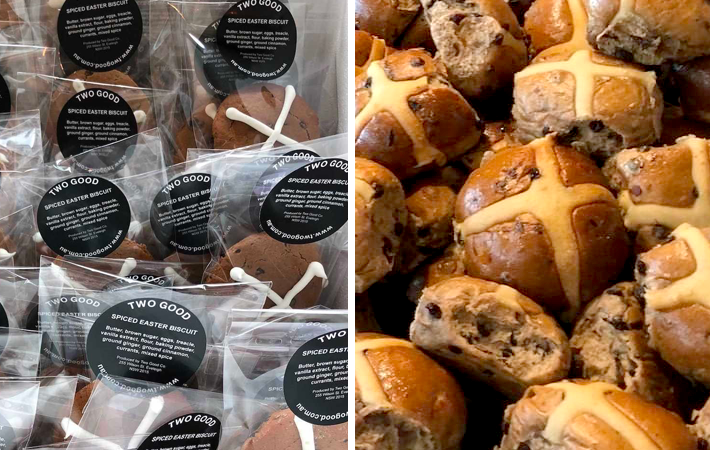 Enjoy some tasty complimentary treats thanks to a culinary collaboration with our partners Two Good Co., The Bread & Butter Project and Baker Bleu
Do you fancy a Freshly baked hot cross biscuit, bursting with spices and fruit, individually and sustainably wrapped, ready to take away and enjoy in your favourite spot. And if you've got room, what about a more traditional hot cross bun, too?
If that sounds good to you, look out for your complimentary treat in our Lobby at International House, Tower One and Tower Two from 8:30am on Tuesday 4 and Wednesday 5 April.
Whilst in the lobby you'll have a feast for your eyes too - our friends at Samambaia have installed a creative and sustainable seasonal installation. Enjoy.


Read more below about these valued partners and the amazing, selfless work they do for the community below.
Two Good Co.
Social enterprise Two Good Co. employs vulnerable women in meaningful work throughout the company, making beautiful food and gifts and giving them a pathway out of living in crisis.

With every purchase, at least #TwoGoodThings happen. You receive a beautiful gift or meal and you create powerful social impact through at least one of the following:
Create social employment hours for vulnerable women
Donate a beautiful gift or meal to a woman in a shelter
Reinvest 5% of sales revenue into the Two Good Foundation

The Bread and Butter Project

As Australia's first social enterprise bakery, they invest 100% of their profits into helping shape the lives of those seeking refuge and asylum- just as they shape loaves for you to eat and feel good about.
| The Bread and Butter Project Website |

Baker Bleu

Baker Bleu is a member of a strong community of farmers, producers, restaurants, and cafes in Melbourne. The bakery believes that ingredients of the highest quality are essential to their products, and they have the utmost respect for the planet, producers, and the goods they create. They prepare sourdough bread and pastries with patience and respect to produce bread to share and enjoy. The bakery is located at 2 Guilfoyle Ave, Double Bay NSW 2028, and is open from Wednesday to Sunday, from 7:30 am to 3:00 pm.