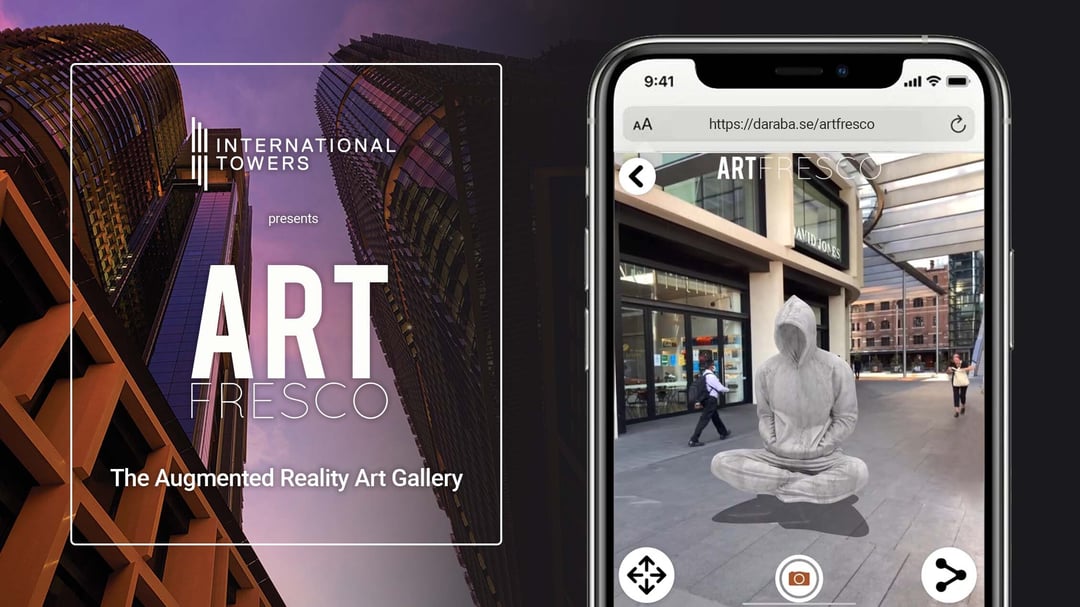 New ARTFRESCO Augmented Reality art activations are live at International Towers. Use the digital map to locate the art and access info about the artists.
The exciting new artwork is brought to life as large-scale augmented reality activations of the original pieces from world-renowned artists, Alex Seton and Robert Fielding. ARTFRESCO has been curated by Sydney-based artist and immersive innovator, Charles Clapshaw. The experience was conceived and produced by leading outdoor media company, Darabase.
The ARTFRESCO experience contains an interactive digital map to help users locate the art around International Towers and information about the artists involved. (Keep reading for more background on all the artists.)
Liam Timms, Lend Lease Fund Manager for International Towers Sydney, said, "Bringing the ARTFRESCO concept to International Towers has been a delight. We are excited to see these world-famous artworks in such a new way and very pleased to share them with the International Towers community. We hope to grow the concept and bring further works of art to ARTFRESCO and the community over time."
Dominic Collins, Darabase CEO , added, "ARTFRESCO has been an exciting project to work on and shows how large scale property owners can enhance the sense of place around their assets to build community and increase visits to their locations. It has been a pleasure to work with the artists involved."

Where you can see the work:

- Mid-way along Mercantile Walk between Tower Two and Tower Three.
- At the eastern end (Sussex Street Bridge) of International House - Exchange Square.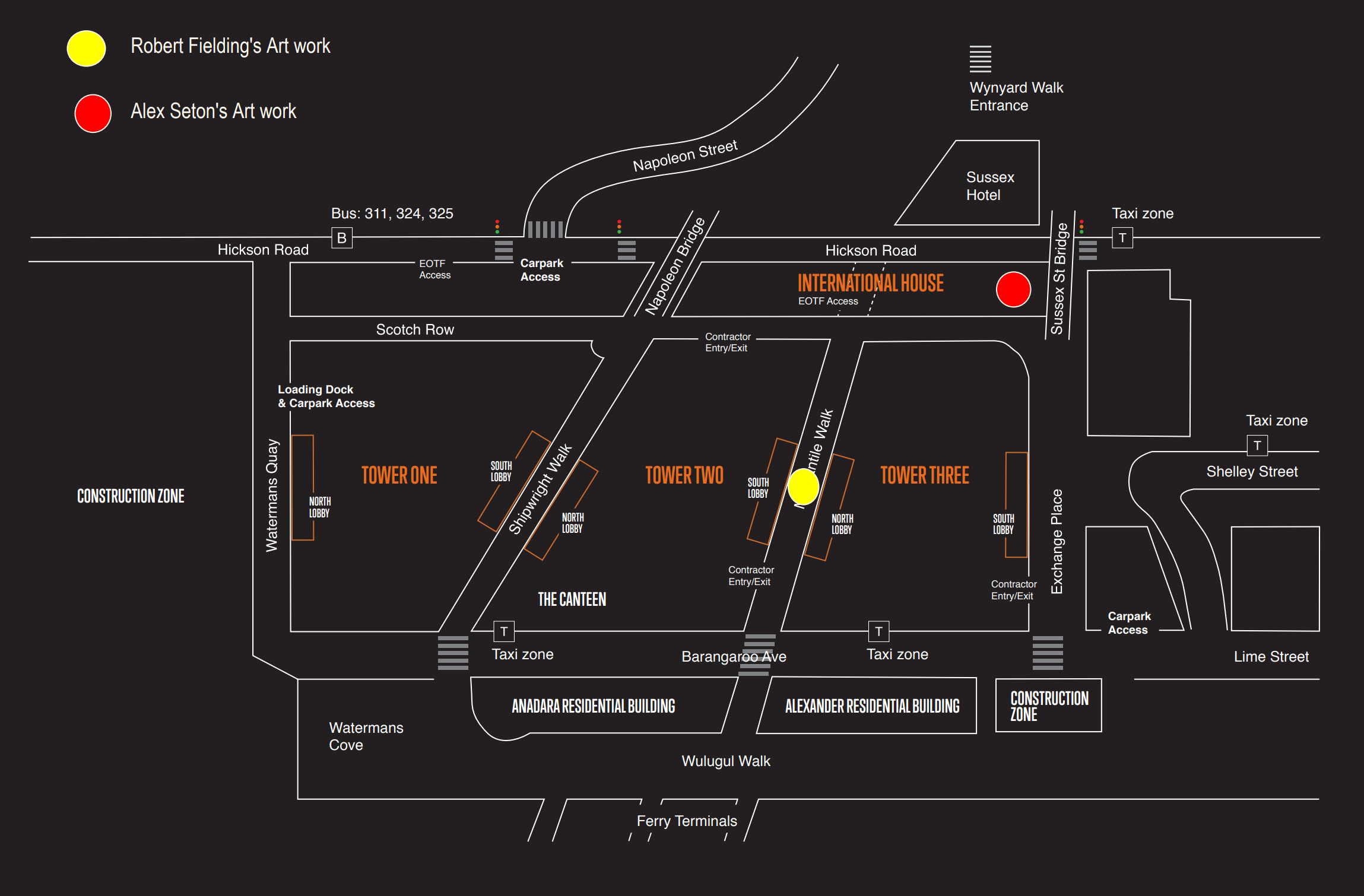 Meet the Artists
Charles Clapshaw
Charles Clapshaw has been connecting creativity with technology for over 20 years. He has led advertising agencies, digital networks and artists throughout the world since the Netscape 2.0 era and developed some of the world's first online booking engines for Air New Zealand (1998), the first digital marketing tests for P&G (2002), and in 2011 created the Digital Arts Network, a global network of 1,500 digital artists in 26 countries.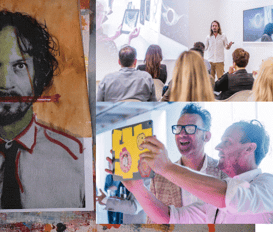 His rare blend of passion, artistic talent and technical leadership has enabled artists, creative technologists, and galleries to win accolades from all the international awards shows including a Digital Emmy award, Cannes Lions, D&AD, SxSW and Webbys.

He has also exhibited worldwide, recently at the 2020 Biennale of Sydney, the Centre Pompidou in Paris (2019), Improper Walls in Vienna (2017), The Edinburgh festival and The Art Gallery of NSW and has murals in Mumbai, Angkor Wat, Bangkok and Bondi Beach. As an active Augmented Reality artist, he has also taught Augmented Reality to agencies, schools and indigenous communities.

Currently Charles is riding out Co-Vid 19 in Bondi Beach, Australia but available virtually anywhere. Active projects include working with on an augmented project for La Belle Epoque, helping Sculpture by the Sea 2020 with their Augmented Reality aspirations as well as growing a start-up Augmented Reality and Machine Learning art, app and production center.
Alex Seton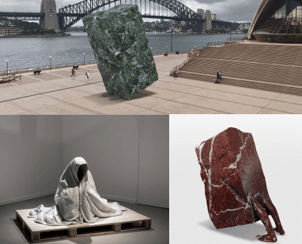 Alex Seton is an artist working in sculpture, photography, video and installation, best known for his use of marble carving. Throughout his practice he has used the techniques and languages of classical statuary and monument, playing with, inverting and exaggerating them to create works that reflect on the contemporary world. Recent work engages directly with contemporary political issues, such as Australia's treatment of asylum seekers, and questions of conflict and nationhood. Through his work,
Seton attempts to grapple the grander narrative through a humanist lens.
Seton has exhibited extensively both nationally and internationally.
His work is held in collections including the National Gallery of Australia; Artbank; Art Gallery of South Australia; Australian War Memorial; Newcastle Art Gallery; Bendigo Art Gallery; the Danish Royal Art Collection, Copenhagen; HBO Collection, New York; and numerous other private and public
collections.


Mimili Maku - Robert Fielding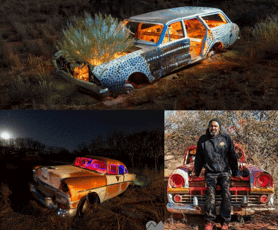 The Mimili Maku in their own words:
'Mimili Maku Arts is a vibrant contemporary art studio owned and governed by a strong board of Anangu directors. The art centre supports artists across different disciplines such as painting, new media, sculpture and publishing.

Robert Fielding is a contemporary artist of Pakistani, Afghan, Western Arrente and Yankunytjatjara descent, who lives in Mimili Community in the remote Anangu Pitjantjatjara Yankunytjatjara (APY) Lands. Fielding combines strong cultural roots with contemporary views on the tensions between community life and global concerns. He confidently moves across different mediums, whilst pushing aesthetic and conceptual boundaries in central desert art.
2021 Manta, blackartprojects, Melbourne
2020 Routes / Roots, Linden New Art, Melbourne
2018 Robert Fielding, Fondation Opale, Crans Montana, Switzerland
2018 Graveyards In Between, blackartprojects, Melbourne


About Darabase
Darabase is the AR Outdoor Media Company whose turnkey platform and solution enables brands, property companies and retailers to run immersive location-based Augmented Reality experiences, layered on the real world.

Darabase augments existing outdoor media screens and billboards with world-scale AR content, delivers AR activations in iconic locations and provides scale geographic coverage through a "Run of World" AR inventory network.

Darabase's platform enables property owners and retailers to protect, monetise and display AR content on their own properties to drive footfall, engagement, and sales. Through a unique permission-based system, DaraBase can also help companies understand what AR content is being placed and viewed in their locations, mitigating risk, and leveraging the opportunity of this fast-growing medium.
Find out more about Darabase.