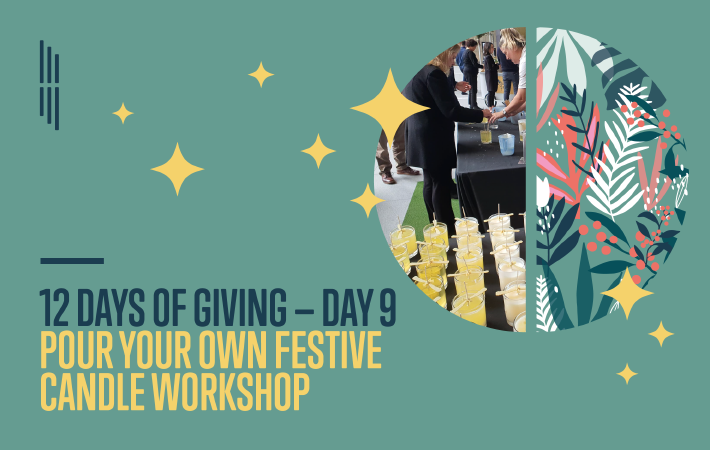 SOLD OUT: Make your own candles in complimentary workshop with CandleXchange
The giving continues today as you can choose from one of two complimentary 15 minute workshops with candle connoisseur CandleXchange, pouring your own waxed wonder which comes in four enchanting aromas - Christmas Bush, Night Before Xmas, Cinnamon & Orange, and Vanilla & Spice (more details below).
Click to register for a workshop below today, it's an incredibly popular Towers activity and we expect the limited spaces to go fast.
8-11am (15 mins/session) on Tuesday, 6th December in Tower Two
8-11am (15 mins/session) on Tuesday, 13th December in Tower Three
Book your complimentary candle workshop now through the Partner Portal:
Event slots sold out
Bring in your pre-loved vessels to have them cleaned and donated to a women's refuge.
Please note that we won't be able to refill your candle vessels on the day as all pre-loved candle vessels will be sent away to be cleaned and donated to a good cause.
CandleXchange will also have a pop-up store where you can purchase some beautifully scented candles.
Your homemade candle will take a few hours to set. We'll hold onto it until it's ready and you can collect it later. Please collect it before 4pm on the day, as we are unable to store candles.


CandleXchange fragrances:

Christmas Bush
Gorgeous green leafy notes coupled with lemongrass, hypnotic woods and patchouli reminiscent of the purity of Australian Rainforests. Takes you back to a place of tranquility.
Night Before Xmas
This perfect Christmas scent combines the top notes of fresh spruce, apple cider, cranberries and sugary plums, followed by a medley of grapefruit & mandarin delicately intertwined with cinnamon and clove to rejuvenate the holiday spirit in all of us, as the light essence of vanilla beans and musk provides a delicate finish.
Cinnamon & Orange
A zesty zing of orange rind with the warmth and comfort of cinnamon.
Vanilla & Spice
This decadent fragrance is derived from opulent vanilla with a smooth heart of caramelised marshmallow followed by a cut through of cinnamon spice for the ultimate perfume indulgence.