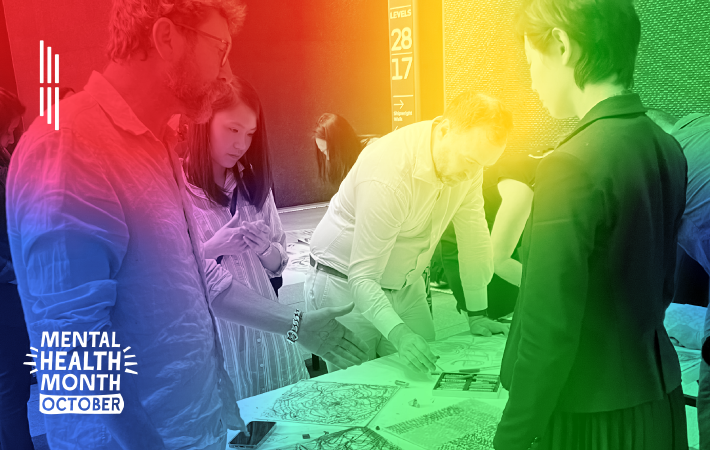 Feeling happy, excited, discontent or melancholy? Express yourself on paper, and connect with your inner creativity.
This October, in celebration of Mental Health Month, we invite you to join us at a special lunchtime creative session with Daimon Downey, a Sydney-based contemporary artist whose studio practice focuses on abstract and expressionist painting.

Engaging in a creative activity is known to boost your mood, serving as a form of self-expression, and allowing you to convey emotions and thoughts visually. The act of drawing can be therapeutic, helping to release pent-up stress and frustration as you transfer your feelings onto paper.

When: 12pm - 1pm Thursday 19 October
Where: Tower 3 South Lobby


Sign in or register for the Partner Portal to book your ticket.
With a background in music, Daimon is the former frontman for Aria award-winning band Sneaky Sound System – his art is loud, full of life, pace and unabashed colour. He invites people to feel comfort and happiness through the exploration of colour, balance and form - offering them an escape from the mundane and often harsh realities of life.


About Mental Health Month
Mental Health Month is celebrated each year October in NSW. This month encourages all of us to think about our mental health and wellbeing, regardless of whether we may have a lived experience of mental illness or not. It also gives us the opportunity to understand the importance of good mental health in our everyday lives and encourages help seeking behaviours when needed.

In 2023, the theme for Mental Health Month is We all Have a Role to Play
This Mental Health Month, think about ways you connect with the people around you. Together, we can work towards a world free from mental health stigma. What role will you play?

Whether it is supporting a colleague, running a community event or educating yourself about the importance of mental health language, everyone can play a role.

Together we can create a safe place for those living with, supporting others and receiving mental health support.

| For more information visit mentalhealthmonth.wayahead.org.au |