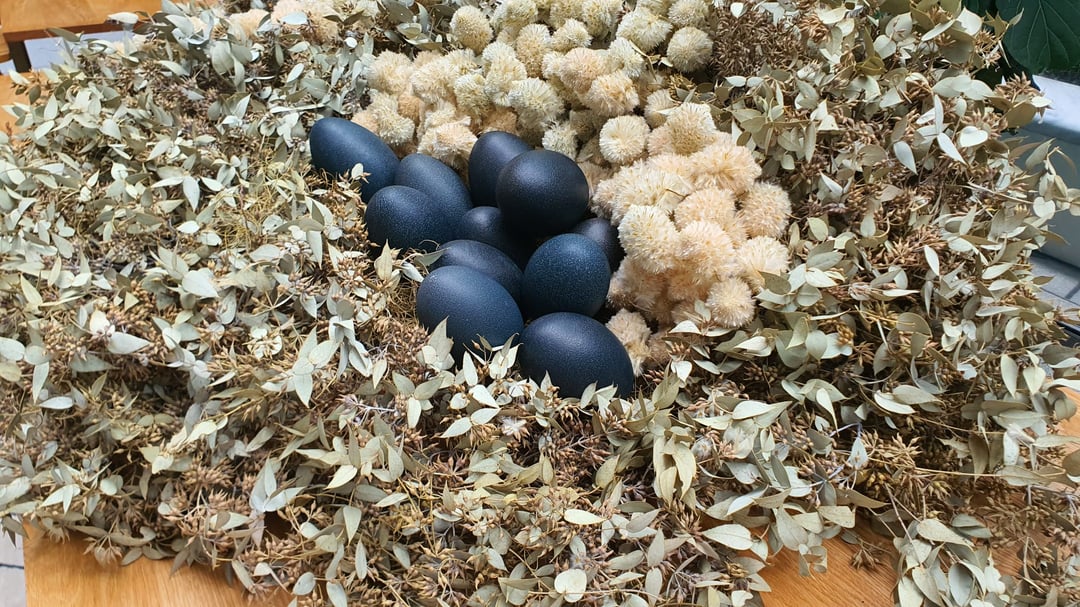 Artwork for long weekends & traditional owners

If you've been working at International Towers a while with an eye on our socials you've probably met Maria Claudia before. The globetrotting model turned master art florist and the team at her Bronte-based business Samambaia have been designing our delightfully sustainable lobby installations since we first opened the doors in 2016.

As usual, the installation to celebrate the April long weekend is created entirely from upcycled material used in the festive season installation the previous December. Joining the impressive roll call of Australian flora in this work is an incredible collection of Emu eggs, housed in gorgeously curated nests. We asked Maria to tell us more.

Can you tell us about your inspiration for the nests in this installation?

"Every year for this long weekend we repurpose all the materials and dried florals used on the previous year's festive installations, and from years before that. Given the egg focus at this time of year we normally recognise that with an egg feature, but this year we moved away from our traditional structured nest form, instead creating a free form installation, with flowing highs and lows of wire mesh. This is the third year we've repurposed this mesh, I think.

"Then, when I'm happy with the shape, size and flow of the mesh, we reach for the dried florals to decorate the form and accentuate the similar tones of the installation. I love working with similar tones, because I think similar tones across mass always creates a bigger impact. The flow and the tones of the floral actually dictates the final shape we end up with. You can't fight nature, even when it's dry." Maria smiles, then adds, "We looked for the natural pockets and dips in the structure, and there we found our nests."

We hear the eggs are authentically sustainable, please tell us how?

"Well for a start, as I often say, when it comes to the high lofty spaces in the International Towers lobbies, size matters, so we need large eggs to achieve visual impact. These Emu eggs certainly fit that bill, they are truly incredible looking specimens, and they're also a truly native Australian symbol.

"My dear friend Craig Scott from East Coast Wild Flowers sourced these eggs for us, six or seven years ago I think, and we've reused them each year ever since. They originate from Emu Logic, an accredited Emu farm in North Western NSW, which marks all their eggs with tracking numbers to identify every one as a genuine native species, that traces directly back to a legitimate Emu farm."

What native flora are you using in the installation?

"In Tower Three South we are using Lamb's Tail and Sago. Both have white and light grey tones and are surrounded by our beautiful eucalyptus Caesia foliage strands.

"In Tower Three North, we have Verticordia with orange tones, and in this installation we used fabric eggs, reusing the indigenous fabrics left over from when we covered our Bismarckia leaves a few years back.

"In Tower Two North, we used the beautiful budded Eucalyptus Gum foliage with the Mulla Mulla, designed to resemble bunny rabbit tails.

"In Tower Two South, we used the Verticordia once again, but this time with dried paper daisy that has a similar tone. We love the contrast and proximity to the dark tiled wall behind it.

"And for Accenture, we did a mini version of our Tower Three South install since we loved it so much," Maria adds with another smile.

Where and how do you dry the flora?

"Over the years I've learnt which varieties dry well and lend themselves to sustainable installations like this, enabling us to upcycle the same material year after year. The process of drying begins before our festive installations are created, stored in boxes very carefully in very dry conditions. Humidity is the worst enemy as mould can take over in just days, but we are very lucky to have a great dry store room right here in the International Towers basement. A dry area and good airflow is key and the basement ticks all the boxes."

Are there any indigenous connections to this installation?

"Absolutely, First Nations people are always top of mind in any International Towers installation, and we often incorporate indigenous weaving art works with our flowers. I also think very much about the landscape of First Nation people's country when planning installation concepts, considering all the shapes of their homeland such as, in this case, the Emu eggs."

If you haven't already, take some you-time to meander through the lobbies and see Maria's amazing recognition of an important time for many modern Australians, while beautifully acknowledging the traditional owners of the land on which we enjoy our long weekends.

The installation will be on display throughout April's long weekend.