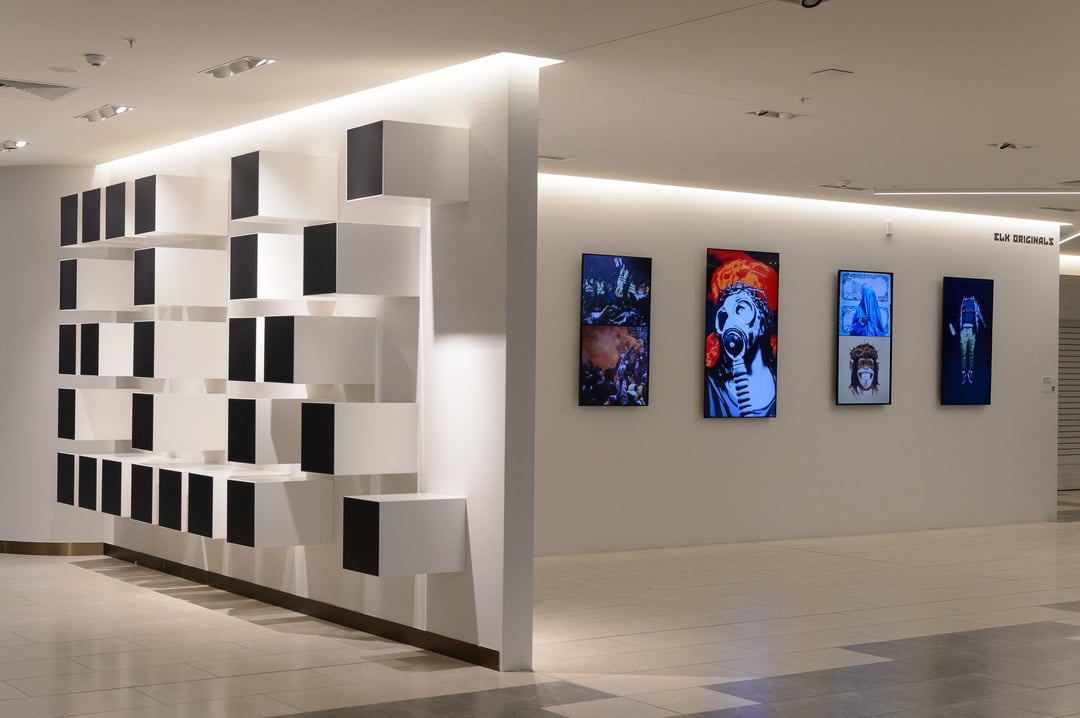 The Edge of Chaos exhibition has been enchanting International Towers. Here's another chance to win one of 10 free pairs of tickets to an exhibition event.
The Edge of Chaos art exhibition has been such a hit we just had to give away more free tickets. This time we have 10 pairs on offer – you could win a pair just by filling out a few details on a form.
The first 10 Tenant Partners who complete the entry form will win. Simply login or register to the Partner Portal and complete the form.

Keep reading to see all the Edge of Chaos events coming up and the competition T&Cs.

The Edge of Chaos exhibition, held over two levels in Tower Three at Barangaroo, will add to the many entertainment offerings being hosted at The Streets of Barangaroo CBD precinct.

Award-winning artist, Luke Cornish (E.L.K), launched his ground-breaking Edge of Chaos art exhibition on Friday, 11 March. A first-of-its-kind in Sydney, Edge of Chaos offers a hybrid art and NFT exhibition with the opportunity to venture into the metaverse and to co-create content with the artist.

The exhibition exposes the dichotomy between our online and offline worlds by offering a traditional art gallery on the first floor that draws on the zeitgeist to offer an apocalyptic tableau of the 2020s, and a virtual, technology-driven experience on the second which introduces the order of the online world. The exhibition will offer guests a hopeful journey into the metaverse, with virtual reality headsets transporting users from inside the exhibit, and away from the chaos of reality and the opportunity to leave their own creative mark in 2D and 3D forms.

If you win the competition you can choose from any of these events:
THE WORLD OF NFTS
Wed 23 March 2022 5:30pm
Not sure what 2021's year of the word, NFTs, really means, and what it implies for you?
This is the session for you. Come learn the basics about NFTs, their use cases, the world of minting and collecting.
- Karl Winterstein, Co-founder of NFT Syd & Web 3 strategist
- Joseph Hilsberg, Co-founder of The Kimmies NFT collection


WOMEN IN NFTS - THE MOVERS & SHAKERS
Thurs 24 March 2022 7:30am

Start the day off inspired by the creative and exceptional women who are leading the charge within Australia's NFT scene.
Our panel of expert speakers include:
- Dr Mallika Robinson, Chief Science Officer & Co-Founder EarthGuardians
- Kimberly Gunawan, Associate Arkblu Capital
- Michelle Grey, CEO Culture Vault


NFTs - THE CREATORS & INVESTORS' VIEWPOINTS
Thurs 24 March 2022 5:30pm

Interested in diving into the motivations of artists and investors in the NFT space? Learn more about the space for their different perspectives.
Our panel of expert speakers include:
- E.L.K (Luke Cornish), artist & NFT creator
- Duco van Breemen, NFT enthusiast, creator & investor
- Francisco Widjojo, Managing Partner Arkblu Capital, NFT & Web 3 investor


NFTS - THE LATEST STATE OF PLAY
Friday 25 March 2022 12:30pm

Already familiar with NFTs, and want to understand where they're going from here? Join us to hear the latest state of play in the space. Which big brands are harnessing NFTs and what are they doing? What are the regulators' thoughts on NFTs? Is the hype dying down or are they really still 'the next big thing'.
Make this Friday a day for lunching & learning!
- Nick Gorshenin, Yahoo Creative Studio


WILL WE ALL WORK FOR A DAO ONE DAY?
Wednesday 30 March 2022 12:30pm

What is a DAO? Will we all potentially work for one, and if so, why? Join us as we delve into DAOs (Decentralised Autonomous Organisations), explore whether the way we work and organise labour, which may look completely different in the future, and the challenges we'll need to address to make this reality. Come and join another lunchtime conversation.
Featuring:
- Alyse Sue, Founding member of FutrDAO and Transhuman Coin
- Adriana Belotti, Blockchain Pro Podcast

Read more about the artist E.L.K here: E.L.K Stencils


How to enter the competition:
Be or become a member of the International Towers Partner Portal and be working at International Towers Tower Two, Tower Three, or International House. Not a Partner Portal member? You can join here.


Complete the entry form via the Partner Portal.
The first 10 Tenant Partners who complete the entry form will win a pair of tickets.


Terms and Conditions
In line with The Community Gaming Act 2018 and the Community Gaming Regulation 2020 started on 1 July 2020, we outline the "rules" of this competition as follows. When you enter one of our competitions, we will assume that you have read these rules and that you agree to them.
The competition is open to members of the International Towers Partner Portal only. Not a member? If you work in International Towers Tower 2 or Tower 3 or International House you can join

here.


The closing date is as specified in each competition, and International Towers reserves the right to amend the competition end date at any time.


By entering the competition, the winner agrees to participate in any promotional activity and material as International Towers may require, including to be photographed for our Newsletter, Blog, and Social Media posts.


No part of a prize is exchangeable for cash or any other prize.


There are 10 pairs of General Admission tickets available. One pair per entry.


If an advertised prize is not available, we reserve the right to offer an alternative prize of equal or greater value.


Each competition will have clear guidelines and or instructions on how to compete or register to win.



This competition will run from 23 March and winners will be the first 10 entrants who complete the entry form.



The winner's eligibility will be checked by confirming if they followed the competition rules,

and the tickets will be emailed.




International Towers reserves the right to amend these rules at any time. We may also create rules which will apply to a specific competition only. If we do this, then we will publish the amended competition rules and/or specific competition rules on the relevant competition page.