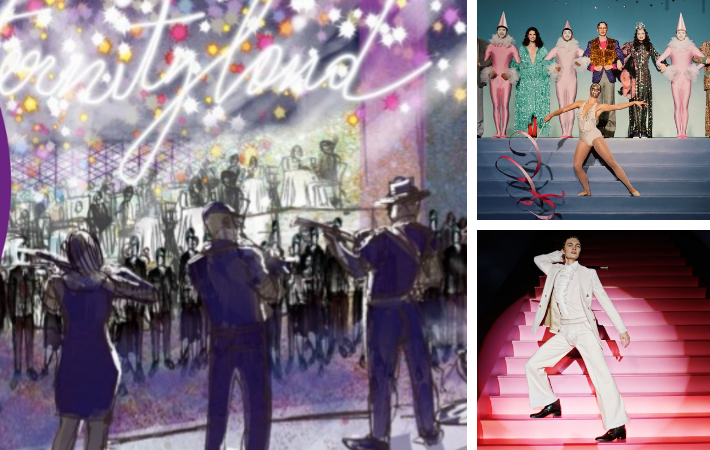 Friday 27th May: ETERNITYLAND is taking up residence at 300 Barangaroo Avenue, promising to become an iconic Barangaroo location, epic in scale and creativity.
ETERNITYLAND is a temporary destination blurring the lines between spectator and participant, an invitation to adventure into a world of imagination. Morphing an iconic Barangaroo location, into an art park, bar, and immersive theatre experience, epic in scale and creativity. Made for a modern audience and a modern city.
Call it installation art - immersive storytelling - theatre or theme park - or just straight-up cool!
The journey begins on Friday 27th May with the opening of The Department of Legend & Myth (The DLM), Eternityland's main bar. For 4 weeks The DLM will warm up the neighbourhood with delicious libations and funky tunes.
Then on 5th July, a brand new temporary large-scale immersive entertainment experience will appear in Sydney. The start of a magical love affair.
This is ETERNITYLAND.

We cant give too much away but...
Using large scale sets, scent, puzzles, performance, technology, and bespoke bars - this is the future of entertainment. Crafted by artists, technologists and builders; an explosion of the fantastical in one place.
Made for a modern audience and a modern city.
ETERNITYLAND is made for audiences looking for other accessible and commercial culture experiences beyond musicals, music gigs, sports events and galleries. For people wanting to avoid large crowds but wanting a quality experience, or simply those looking to do something different.
ETERNITYLAND is Sydney's chance to offer this type of experience, already incredibly popular internationally. The appeal is wide, as it captures theatre goers, gamers and hospitality aficionados alike, all in one unique experience.
With the façade of the former David Jones building (300 Baranagroo Avenue) covered in art, Barangaroo will feel alive and 'open, day and night, with ETERNITYLAND.
Designed so it can be experienced multiple times, ETERNITYLAND will boast 20+ spaces, puzzles, performers, DJ's and live bands, marking it a 'destination event' in the heart of Sydney.

The Team
Is WORLD-CLASS and led by:
Creative Director & Executive Producer, Danielle Harvey – the mind behind The Festival of Dangerous Ideas, the immersive juggernaut A Midnight Visit and respected curator and producer, who's previous roles include Executive Producer of Sydney's Mardi Gras Festival and Head of Contemporary Performance for Sydney Opera House. In Sydney she created and produced the festivals All About Women, BingeFest and Antidote.
General Management, Nathan Luff – former General Manager of national Wakakirri Story Festival and Powerhouse Youth Theatre. Nathan is also an award-winning children's author.
Creative Producer, Bridget Harvey – credits include Netflix's Pieces of Her, Messiah and Top of the Lake: China Girl, A Midnight Visit, Beautiful: The Carole King Musical and Harry Potter and the Cursed Child.
Production Manager, Derrin Brown - General Manager of The Mandala Social, a leading producer of Immersive experiences. Many career highlights over 23+ years including Cirque du Soleil, Sydney Opera House, SOCOG, BOCOG, M2006, RWC, World Expos, Government of Indonesia and the United Nations.
Production Design, Dan Potra – award-winning designer and NIDA lecturer. Credits include Sydney Olympic Opening Ceremony, How To Train Your Dragon Arena Spectacular and Opera Australia.
This is ETERNITYLAND.