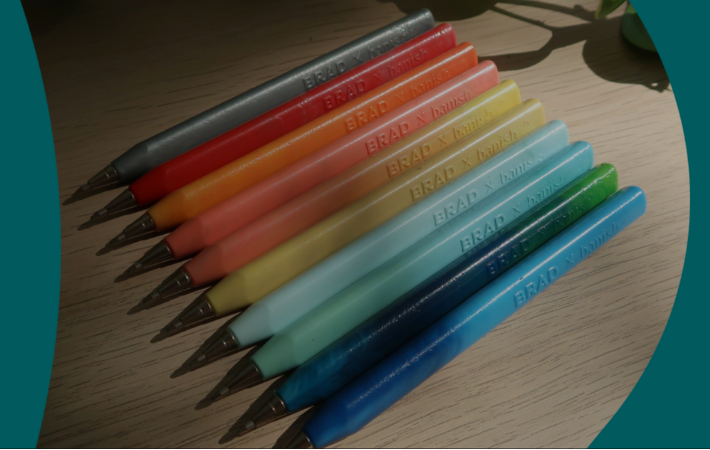 Learn how Banish transform plastic bottle top lids into functional, refillable pens in 15 minutes
Did you know that just 9% of plastic gets recycled in Australia?
This needs to change, so Banish started the Banish Recycling and Disposal Program, BRAD, one of Australia's largest specialty recycling programs to offer an end-to-end solution for some of those hard-to-recycle household items such as blister packs, toothpaste tubes, lotion bottles, coffee pods, bread tags and so much more.
Book a 15 min session with us and learn how Banish transform plastic bottle top lids into functional, refillable pens.

Crafted with care and innovation, these pens are not just writing tools; they're a powerful statement in support of eco-conscious living. This Refillable Pen is designed to be used over and over again. Say goodbye to disposable pens that end up in landfills, when the ink runs dry, simply refill it with refill ink cartridges and keep the sustainability cycle going.

When: Book a 15 minute session between 8:30am - 1pm on Tuesday 14th, Wednesday 15th or Thursday 16th November
Where: Tower 3 South Lobby International Towers
Sign in or register for Amica to claim your voucher today.
Visit our pop-up stall in Tower Three lobby
Chat to our friends from Banish hear more about the BRAD program or to purchase from a range of the recycled sustainable products.
More about Banish
Banish was born in a bid to help Australian's reduce their waste with the right products and even better information".

With the lack of transparency and reliable information that dominates the industry, Banish focuses on education and engagement with stakeholders. As a social enterprise and B Corp certified company our aim is to leave a positive impact on the planet. We want to educate, empower and inspire Australians to take climate action.
Our goal is not only to help Australians reduce their waste by making more responsible and eco-friendly consumer decisions but also to facilitate information, programs and initiatives that will help Australians live more sustainably and particularly dispose of their products at the end of their useful life.

| Visit Banish website to read more |