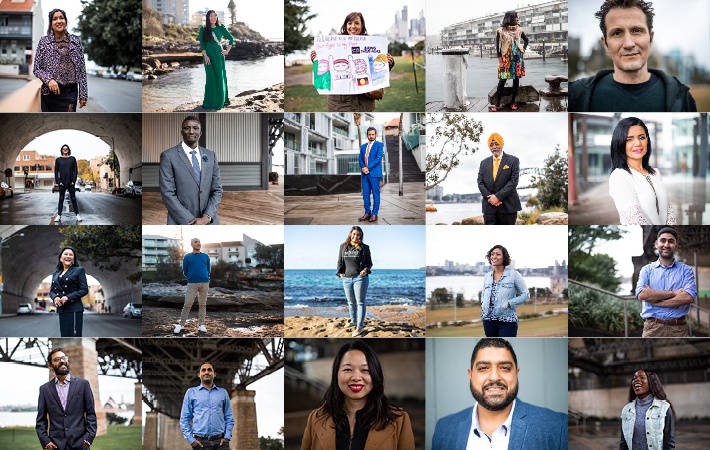 Partnered with TransferWise to showcase inspirational stories of new Australians
International Towers' culture of diversity and inclusion was showcased in the lobbies of Tower Two and Tower Three, coming to life through the poignant "Faces of Australia" exhibition.
The meticulously-curated exhibition was backed by the founders of global fintech TransferWise, Kristo Käärmann and Taavet Hinrikus to illustrate what Australia looks like today and the contributions immigrants made to our community
The portfolio of 20 photos were matched with the stories of the admirable individuals who overcame formidable obstacles to make Australia their new home.
Personal journeys featured included Igor Kreyman, the founder of social enterprise The Human Connection Movement, who arrived in Australia from the former USSR, now Ukraine, in 1991. Igor's initiative aims to tackle what he describes as "the loneliness epidemic" and has echoes of his own sadness at leaving behind his maternal grandfather.
Also, Mahir Momand fled Afghanistan after being attacked by the Taliban. Now the CEO of Thrive Refugee Enterprise, he has distilled both his painful experience and finance knowledge into encouraging entrepreneurship in new Australians.
International Towers General Manager Tony Byrne said, the inspiring exhibition was as much about the stories and storytelling as it was about the exquisitely-shot images.
"Diversity, in its truest word, means acknowledging all forms of background and identity. At International Towers, we are committed to celebrating the heritage, beliefs and values of our diverse workforce and visitor base. We are proud to host this exhibition which shows on a macro level the contribution migrants make to Australia and, on a micro level, the diversity of our own thriving business community," Mr Byrne said.
TransferWise Australia Country Manager, Nicholas Lembo said the exhibition put a spotlight on what Australia looks like today - a diverse picture often overlooked by the images traditionally portrayed in mainstream media and advertising.
"Australia is a nation of migrants. Half of us are born overseas or are the children of immigrant parents, so being an 'Aussie' means many different things for many different people. At TransferWise, we believe being Australian is more about recognising where and who we are now and where we hope to go, as much as where we've come from," Mr Lembo said.
The exhibition was on display throughout the summer, and closed on Thursday 28 February 2019.
Read the amazing Faces of Australia stories at the link below.
| Read Faces of Australia stories here |