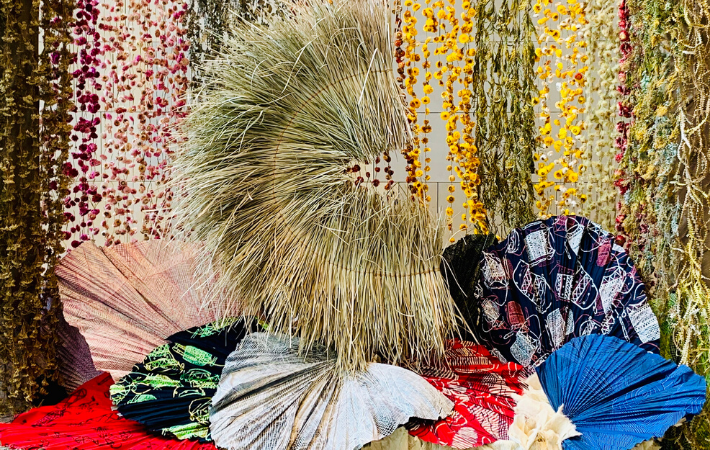 A tribute to Indigenous creativity
Our installation to celebrate Christmas and the festive season this year has been inspired by a number of uniquely Australian themes and celebrates the work and creativity of a number of Indigenous artists.

The fabrics used in the installation were designed and produced by the artists at Babbarra Women's Centre, based in the Maningrida region of Arnhem Land in the Northern Territory. Founded in 1983, the centre's mission is to empower local women through art, advocating for better learning and economic opportunities. The designs were first featured during NAIDOC Week, and have been used again to decorate the palm fronds.

The remarkable artwork of Mabel Juli, in particular "Garnkiny Ngarranggarni - Moon Dreaming" explores kinship and the origins of our mortality. The palm frond crescent at the centre of the installation owes its origins to this unique piece. Mabel works from the Warmun Art Centre, and her recognition as one of Australia's most revered painters has emerged from her consistent commitment to her art practice and her remarkable storytelling. She's been awarded the prestigious Kate Challis RAKA Award and has been a finalist in the Fleurieu Art Prize for landscape painting.

The Australian Everlasting/Paper Daisies were grown by Craig Scott, a specialist Australian native wildflower producer. Each flower has been individually linked to create the veil which features prominently in the display.

The installation was also inspired by the powerful dance language and costumes from Bangarra Dance Theatre's current work: "30 Years of Sixty Five Thousand".

International Towers has reused, recycled and repurposed many elements from previous installations for this year's display, supporting our continued focus on sustainability.

Displays are located in Tower 2 North Lobby, Tower 3 South Lobby and International House, Accenture Lobby.