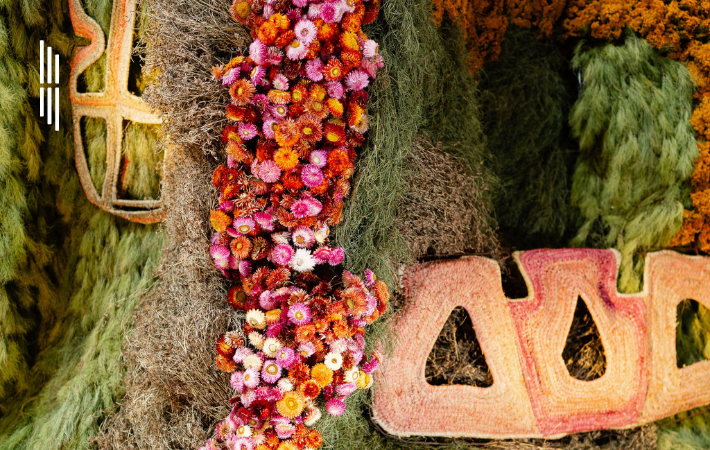 Spectacular sinuous landscapes
We acknowledge the Traditional Owners of the country on which International Towers is built, the Gadigal people of the Eora nation, and recognise their continuing connection to land, waters and culture. We pay our respects to their Elders past, present and emerging.
Over the years International Towers has acknowledged the holiday season by creating installations that celebrate our First Nations peoples, and their unique talents.
Earlier this year International Towers chose to support the Tjanpi Desert Weavers, which is a social enterprise of the Ngaanyatjarra Pitjantjatjara Yankunytjatjara (NPY) Women's Council, and selected artworks form key elements of this year's installation.
Their ingenious hanging fibre sculptures combine Tjanpi weaving practice with recycled car seat frames that have been salvaged from the remains of burnt-out motorcars. Across the APY Lands, these motorcars have been laid to rest leaving behind a sculptural wire skeleton that now informs the beautiful organic shapes of the women's weaving. Each piece was created by weaving native grass and hand-dyed raffia onto a found car seat frame, speaking to the striking desert landscapes of the region.
Our installation has been crafted by Maria Claudia, Samambaia and her skilled team of artisans. The inspiration for our installation came from the unique natural beauty of this ancient land and in particular the spectacular Bungle Bungle Range, Purnululu National Park, Western Australia.
Referencing the wildly undulating (not unlike the shape of a child's picture book Beehive) rock formations incised by gullies, etched by water and adorned with plant life in its many forms.
You may notice in these sculptural creations, that the constant play of light across the "rock formations" is represented by the multiple sinuous sweeps of a variety of plants e.g.
Stirlingia, Koala Fern, Verticordia Cream, Verticordia Zig Zag, Wattle Zig Zag, Goanna Fern, Coral Fern Bracteatum – Paper Daisy.
International Towers strives each year to offer a unique installation which during its creation, provides benefit to many individuals and organisations. Where possible, we source and manufacture elements locally. We reuse, repurpose, and rigorously control the downstream processes associated with any waste that is generated – some of the nutrient rich organic material will end up in our onsite Maggot Farm.
This year we also reference the unifying sky above us, which at night is punctuated by the beauty of the stars which are there for all to admire
The featured Tjanpi Desert Weavers artworks will be hung in International Towers following the holiday season.
Installations are located in the lobbies of Tower 2, Tower 3 and International House throughout the festive season until the end of January 2024.
Featured artists
Ngilan (Margaret) Dodd
Lorna Dodd
Julie Yangki
Fiona Dodd
Collette Stewart
Kathy Dodd
Pinuka (Margaret) Yai Yai
Amy Yilpi
Samambaia
https://www.samambaiaflowers.com/
Impact AV
https://impactav.com.au/