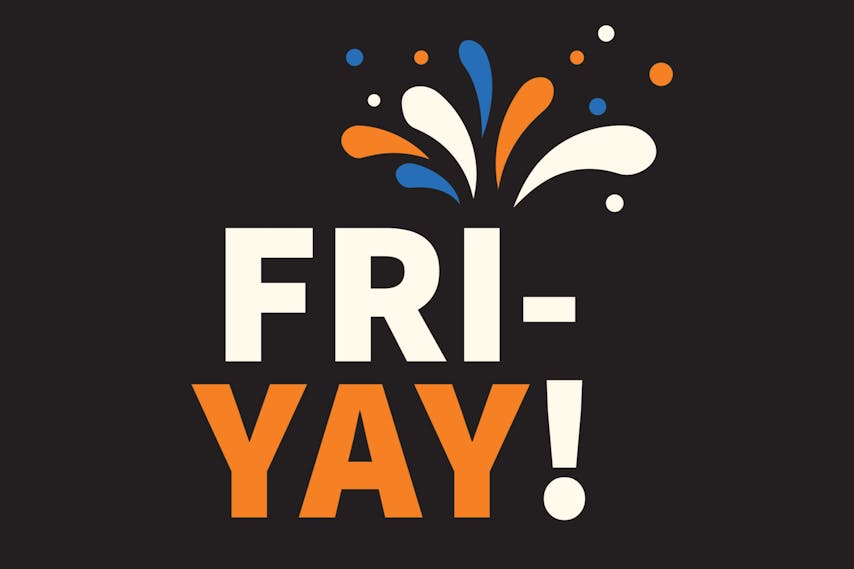 Remember when Friday meant long lunches with clients and knock-off beers with the boss?
Well, we're bringing that feel-good vibe back to Fridays throughout February. Get ready to let loose and celebrate every Friday with weekly prizes, exclusive retail offers, and a major prize.
Major prize, you say?
Just by heading into work on a Friday, you'll have the chance to win a major champagne-popping prize... one year's worth of FREE travel on public transport. Come one Friday, come all... you'll go in the draw as many times as you celebrate Fridays with us. Just make sure to let us know you're here on a Friday by scanning the QR code in the Lobby.

We'll also be dishing out $50 Opal cards to runner-ups... because that's what Fri-Yay! friends are for.

Weekly Prizes
The party doesn't stop there... Scan the QR code on a Friday and you could also win one of our weekly prizes. Here's how we're celebrating Fridays in February:
Stay tuned each week as that's when we'll be announcing the weekly prize winner.

Exclusive Retail Offers
Look who else joined the party?! Our Barangaroo retailers have some treats in store for you, available every Friday in February. Find out more here.
Turn up Kool & the Gang's Celebrate! and get ready to crack the champagne with us every Friday in February.
Fri-yay! is proudly brought to you by all three towers here at Barangaroo, International Towers. In conjunction with some very special partners; your friendly landlords, Lendlease, the wonderful team from The Streets of Barangaroo, and our pals over at Transport for NSW.