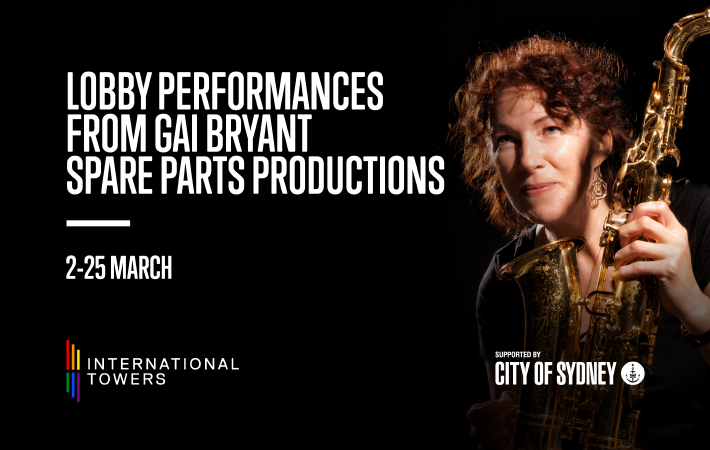 Some of the brightest lights in the local jazz scene are coming to International Towers
Get ready for innovative and textural soundscapes by Australian performers ad they fill our lobbies with their diverse musical styles and genres including breezy Bossa Novas, classic, contemporary, and a lot more.

Every Tuesday and Thursday throughout March, performances by duos and trios will be held in the lobbies of Towers Two and Three in partnership with Gai Bryant - Spare Parts Productions and supported by the City of Sydney.
These performances are supported by the NSW Government and City of Sydney's City Centre Revitalisation grant scheme, in partnership with International Towers aimed at injecting fresh inspiration into the daily experiences of workers returning to the workplace.
Spare Parts offer you compositions and arrangements of consistently high quality and originality by well-established and up-and-coming composer/arrangers.
We hope you enjoy the music.
When: 2 March - 25 March 2021
Every Tuesdays and Thursday morning and lunch-time.
Where: International Towers, Tower 3, and Tower 3 Lobbies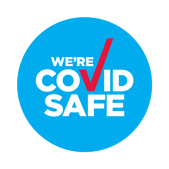 Meet the Artists


Duos



Joshua Hill Atomic Percussion Duo


---

Joshua Hill's Atomic Percussion Duo features marimba and vibraphone. The duo perform innovative new works and textural soundscapes alongside traditional masterpieces. Joshua is a core member of Synergy Percussion and has performed with the Sydney Symphony, Australian Opera and Australian Chamber Orchestras.

Joshua Hill's Atomic Percussion


Tunes and tonic


---

Sarah and Luciano take the biggest hits from the last four decades and give them a smooth jazzy twist. Combined, they have experience performing all over the world for companies such as Universal Studios Japan, Royal Caribbean, and the newly open Crown Sydney. From pop, to classics, to RnB, this duo has something for everyone, and you'll soon find yourself singing and grooving alone to all your favourite songs.

Tunes and tonic


Lucho Valverde of Lorenzo Ysu Swing


---

Lucho is a Peruvian Australian pianist who performs a broad range of music styles from across
Latin America. Lucho sings and plays Cuban cha cha chá and salsa, Peruvian vals and festejo and so much more.

Lucho Valvarde
Trios
Gai Bryant trio


---

Gai Bryant's saxophone trio with Josh Spolc on double bass and Juan Carlos Allende on hand
percussion present a range of original and well-known Latin standards. Playing without a harmony instrument allows all three players the freedom to interact with an openness of sound where the spaces in between notes are as important as the notes themselves.

Urban Gypsies Trio


---

Urban Gypsies are an instrumental Jazz/Latin/contemporary band featuring nylon string guitars, cello and percussion. They represent an exciting direction in Latin / jazz mixed with world music influences, exploring a wide range of styles and genres from breezy Bossa Novas to fiery improvised virtuosity.

Urban Gypsies


Los PIBES Trio


---

Steve and Cesar Marin with Enrique Berbis specialise in playing Latin and world music. Playing over 20 instruments between them, the duo promises to entertain, fascinate and engage their audience.

Los PIBES
Performance Schedule
TOWER 3
Monday

Tuesday


Wednes

Thursday

Friday

Los PIBES Trio
--------
MARCH 2
Lucho Valverde
--------
MARCH 4

Los PIBES Trio
--------
MARCH 9
Joshua Hill Automic Percussion
--------
MARCH 11

Lucho Valverde


--------
MARCH 16
Los PIBES Trio
--------
MARCH 18

Joshua Hill Automic Percussion


--------
MARCH 23
Tunes and tonic
--------
MARCH 25
TOWER 2
Monday

Tuesday

Wednesday
Thursday
Friday


Tunes and tonic




-------


MARCH 2

Gai Bryant Trio




-------


MARCH 4

Joshua Hill Atomic Percussion




-------


MARCH 9

Tunes and tonic




-------


MARCH 11

Gai Bryant Trio




-------


MARCH 16

Joshua Hill Atomic Percussion




-------


MARCH 18

Gai Bryant Trio




----------


MARCH 23

Urban Gypsies Trio




----------


MARCH 25
Map