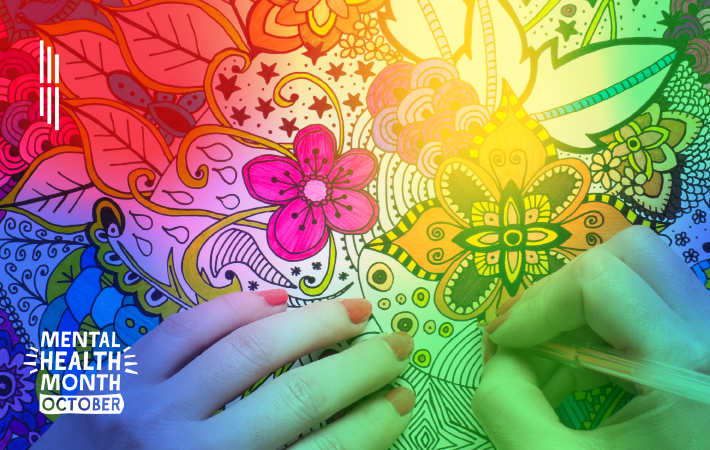 Slow down, pick up a pencil and promote a calm meditative state.
This October, in celebration of Mental Health Month, we invite you to join us for an adult colouring lunchtime session to calm your mind.
To join in, just head to the lobby, where we will have a range of colouring sheets and pencils available in the seating area. No bookings required

When: 12-1pm Thursday 5th October
Where: Tower Lobbies

Colouring in is known to be beneficial for mental health by promoting relaxation and mindfulness. Engaging in this creative activity helps individuals focus on the present moment, reducing stress and anxiety by allowing them to momentarily disconnect from their worries. The repetitive and rhythmic motion of coloring can trigger a meditative state, enhancing overall well-being and providing a sense of accomplishment as intricate designs come to life with vibrant colours.

We hope to see you there.
About Mental Health Month
Mental Health Month is celebrated each year October in NSW. This month encourages all of us to think about our mental health and wellbeing, regardless of whether we may have a lived experience of mental illness or not. It also gives us the opportunity to understand the importance of good mental health in our everyday lives and encourages help seeking behaviours when needed.

In 2023, the theme for Mental Health Month is We all Have a Role to Play
This Mental Health Month, think about ways you connect with the people around you. Together, we can work towards a world free from mental health stigma. What role will you play?

Whether it is supporting a colleague, running a community event or educating yourself about the importance of mental health language, everyone can play a role.

Together we can create a safe place for those living with, supporting others and receiving mental health support.

| For more information visit mentalhealthmonth.wayahead.org.au |