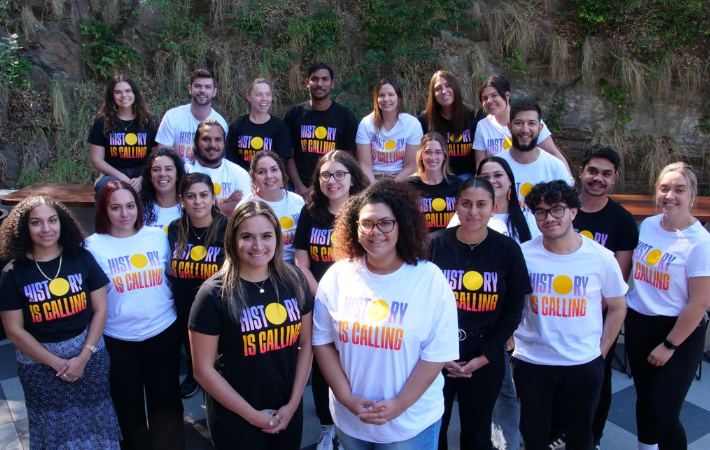 Youth Voice National Conference to be held at International Towers from 24-27 August
The Uluru Youth Dialogue has partnered with UNICEF Australia, Australian Youth Affairs Coalition and Multicultural Youth Advocacy Network (Australia) to host the Hands on Heart Youth Voice National Conference from 24th-27th
August 2023 on Gadigal Land at International Towers Barangaroo.
Supported by International Towers and Lendlease, this conference is a fantastic opportunity for young people from all walks of life to come together with First Nations young leaders of the Uluru Youth Dialogue (based at University of NSW)
to learn and activate towards a successful referendum on the Voice later this year.
The Hands on Heart Youth Voice National Conference aims to bring together young people (aged 18-30) from diverse backgrounds across the country to further develop their skills in community education, activation and connection in
the lead up to the Referendum.

The Uluru Statement from the Heart is an invitation from First Nations people to all Australians. One of its key features is to ask Australians to support meaningful constitutional recognition through providing a First Nations Voice.
The First Nations Voice is the first proposal contained within the Uluru Statement from the Heart. It is a constitutionally protected body of First Nations people which will advise the Federal Parliament and the executive government, able to influence laws and policies at the point they originate.
"Hands on Heart is a once in a lifetime opportunity for young Australians to come together to
learn more about the Voice Referendum from senior and junior key leaders of this movement
and be equipped with strategies to advocate for the Voice in their own communities and
contribute to a successful referendum result,"
Allira Davis, Cobble Cobble woman and Co-Chair of the Uluru Youth Dialogue said.
"Young people will inherit the outcome of this referendum. As the Uluru Youth Dialogue, we
want to show them how a successful referendum can shape the future of our country.
Bridget Cama, Wiradjuri woman and Co-Chair of the Uluru Youth Dialogue, said young
Australians are at the heart of a successful Voice Referendum.
"We are so passionate about creating positive change and we know this conference will help
unite the youth movement and harness support for the Voice.
For more information on the Uluru Statement from the Heart and resources about the First
Nations Voice to Parliament see below:


| Young leaders of Australia needed for Hands on Heart Voice conference |
| Uluru Statement from the Heart |
| Voice Website |