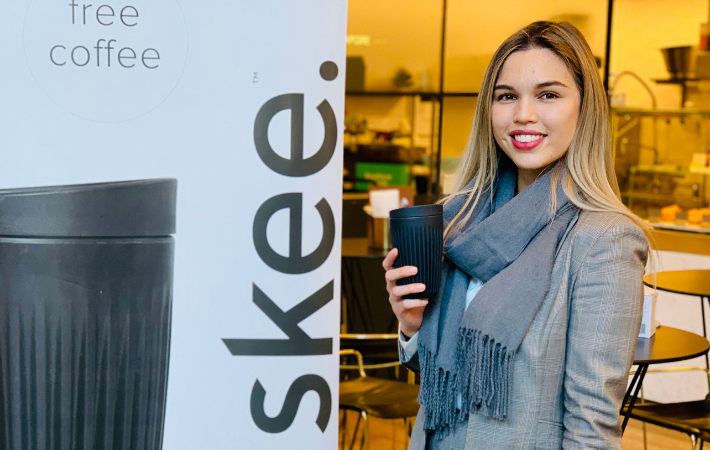 Help save the planet, one disposable coffee cup at a time.

As one of the world's most sustainable workplaces, in one of Australia's most sustainable neighbourhoods, International Towers is actively encouraging our community of workers and visitors to play a part in helping make our precinct waste-free.
Tens of thousands of single-use coffee cups are used within Barangaroo every month. Globally, over 500 billion cups pile up in landfill each year. Although the cups used within the precinct are amongst the most environmentally-friendly available on the market, they can be difficult to properly recycle, and still have a significant carbon impact in terms of production and transport.
In collaboration with International Towers, HuskeeCup are hoping to permanently place disposable coffee cups in the environmental wastebin through a progressive new initiative within the Barangaroo precinct – HuskeeSwap.
The idea is simple: purchase an award-winning HuskeeCup when ordering your next coffee, and the next time you need a caffeine hit, take your cup to the café to be washed and re-used, and get your coffee in one of the HuskeeCups already circulating within the International Towers community. No need to wash your cup. For taking part in the program, you get to enjoy a week's worth of free coffee. It's the ultimate win-win: for you, and the environment.
Why Huskee? We feel the HuskeeCup is an excellent example of what happens when great design responds to a genuine social and environmental challenge.
HuskeeCup features coffee husk as a raw material. Coffee husk is an organic waste material that's produced at the milling stage of coffee production. By finding a use for the disposed husks, hundreds of tonnes of waste material are repurposed and recycled from the production of coffee.
The HuskeeCup is a recent recipient of the Australian Good Design Award – Best in Class, and it's easy to see why. The cups have a unique thermal property that keeps coffee hotter for longer, are BPA free, comfortable to hold (the iconic fin design protect your hands from the heat of your drink), and they are highly durable.
They have also been designed with a universal lid, so if you prefer to wash and re-use your own lid, you can be assured it will fit on any other cup, regardless of size.
To support this incredibly worthy initiative and join the HuskeeSwap program, visit Iron Grill (The Canteen), Toby's Estate (Tower Two and Tower Three) or Dukes (Tower One) to find out more.