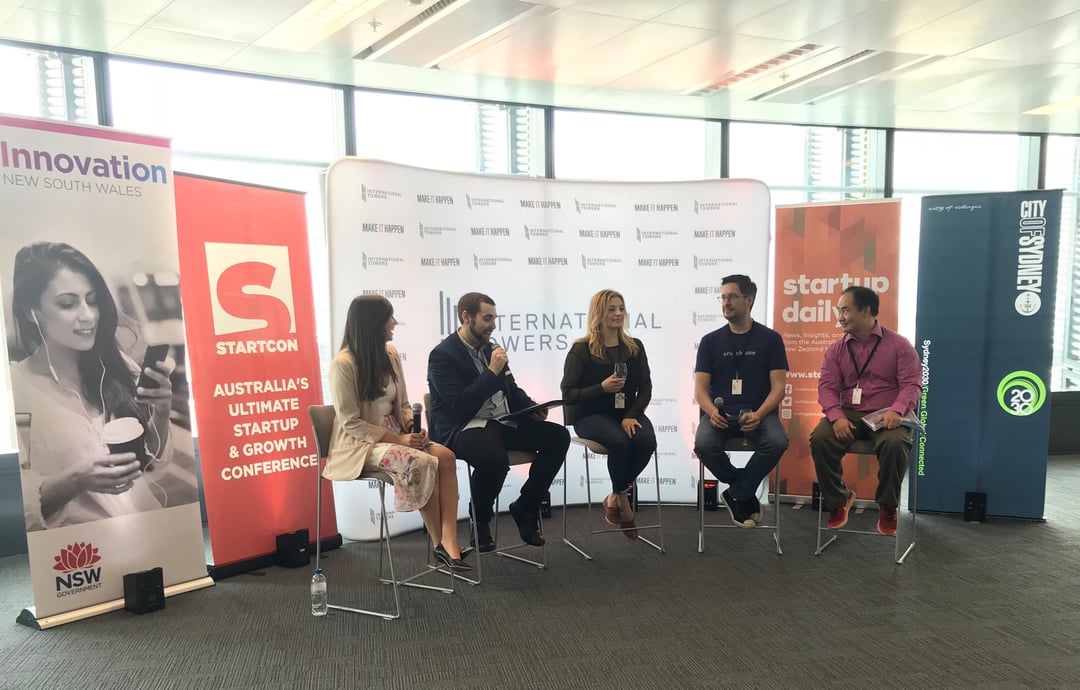 City of Sydney and International Towers Hosted Networking Lunch with StartCon Speakers
29th November 2017, Sydney AUSTRALIA: Australia's emerging business leaders and entrepreneurs shared ideas and experiences at a networking event with 20 of the world's leading international entrepreneurs at International Towers, Barangaroo on Thursday, 29 November, as part of the City of Sydney's visiting entrepreneur program, in partnership with StartCon.
The high-profile global visitors included Vicki Saunders, founder of SheEO, a global initiative to radically transform how we support, finance and celebrate female innovators; Jager McConnell, CEO of Crunchbase, the leading platform used by millions of entrepreneurs and investors looking to discover innovative companies and the people behind them, and Marcus Segal, General Partner at UpShift Capital, ex-partner of Y Combinator, one of Silicon Valley's leading accelerators and ex-senior vice-president of operations at Zynga, a global gaming platform.

Guests at the informal lunchtime event included a diverse range of innovation and startup ecosystem leaders, with more than half the tickets made available free of charge to Sydney's small business community.
International Towers General Manager Tony Byrne said the business leaders were amongst the first to gain a behind-the-scenes glimpse of the new innovation community being established at International Towers.
"We believe that diversity is the true seed of innovation and International Towers celebrates diversity in all its forms. Through our events program and the curated tenancy model within Towers Two and Three, we are helping established enterprise leaders to share knowledge with growth focused startups and scaleups.

"We are thrilled to host this special networking event which will give our high-growth focused, local business leaders a fantastic opportunity to access some of the world's greatest entrepreneurial talent," said Mr Byrne.

In a groundbreaking approach to placemaking, International Towers curated its tenants for the two buildings, selecting diverse organisations with aligned values, including a commitment to innovation, sustainability, collaboration and community.

New tenants under the curated tenancy scheme include The Green Building Council of Australia (GBCA) and Indigenous dance company Bangarra Dance Theatre. These organisations join the community of established innovation leaders within International Towers, Tower Two and Tower Three including: KPMG and its recently-opened Innovation Lab; award winning law firm Gilbert + Tobin; leading global reinsurer Swiss Re; Australia's most innovative international property and infrastructure group, LendLease, which developed Towers One, Two and Three International Towers; and Westpac Group.

The event is part of the City of Sydney's visiting entrepreneur program (VEP) which aims to foster a culture of entrepreneurship and innovation, and raise awareness of Sydney's tech startup ecosystem locally, nationally and globally. Through this program, the City is working collaboratively with members of the ecosystem to provide a platform to connect the local startup community with skilled global entrepreneurs.

Lord Mayor Clover Moore said the program, co-sponsored by the NSW Government, was designed to boost Sydney's flourishing tech startup sector.

"This lunch is an excellent opportunity for Sydney's startups to come together and learn from global leaders in their field," the Lord Mayor said.

"We've designed this program to strengthen our culture of entrepreneurship and innovation with links to overseas startup communities and mentoring to help accelerate the growth of local startups.

"By giving our tech innovators guidance from experienced global business leaders, Sydney's budding entrepreneurs will learn how to successfully launch and grow global-ready businesses."
Media Information:
For media inquiries or images, contact Senior Media Advisor Belinda Wallis on mobile 0467 810 160 or email bwallis@cityofsydney.nsw.gov.au

For interviews with Lord Mayor Clover Moore, please contact Matt Levinson on mobile 0499 319 385 or email mlevinson@cityofsydney.nsw.gov.au

For media inquiries about International Towers, contact Fleur Brown from Launch Group on mobile 0419 270 863 or fleur@launchgroup.com.au