Creative female artists performing to celebrate International Women's Day
A challenged world is an alert world and from challenge comes change. So let's all choose to challenge.

In support of International Women's Day we are thrilled to celebrate the achievements of incredible female performers on Monday morning and afternoon.


Annalouise Paul Dance Theatre presents the Divine Feminine Rising



Divine Feminine Rising celebrates the place and power of women in society, in history and the knowledges passed down from our mothers and grandmothers, sisters and daughters.

For International Women's Day, Annalouise Paul Dance Theatre presents this wholly unique tailored event featuring an all-female cast of dancers that are the many living cultures of who we are as Australians today. Cultures from a contemporary vantage.

A proud Wiradjuri dancer is joined by gorgeous Flamenco, Chinese, Indonesian, Afro-Contemporary and Butoh dancers in an alchemy of power and prowess in this bespoke event for International Towers.
Divine Feminine Rising also features the exquisite original grooves by Circle of Rhythm, Australia's masters of percussion; Greg Sheehan, Bobby Singh and Ben Walsh.

Appealing to audiences from all walks of life, business people, tourists, families and anyone passing through Barangaroo, will witness this unique cross-cultural collaboration that creates as feeling of inclusion and belonging and sends them on their day with a message of positivity and hope.

Divine Feminine Rising is conceived, choreographed and directed by award-winning choreographer, Annalouise Paul especially for International Towers on International Women's Day, 8 March 2021.

You will love to watch but eventually you want to dance!

Biography
Annalouise Paul is a choreographer and a contemporary-flamenco dancer who has been making intercultural dance-theatre for over 35 years in Sydney, London, Singapore, India and Malaysia.
She explores identity and transformation through the intersection of traditional and contemporary dance grounded in contrasting principles - a respect for deep traditions and a consistent innovation toward modernity.
Her broad career has included highlights, dancing for Michael Jackson on his video 'In the Closet', for Los Angeles Opera with Placido Domingo, as a solo guest artist for the 2005 Australian Dance Awards and as the assistant choreographer on James Cameron's 'True Lies' teaching Arnold Schwarzenegger to tango!
Annalouise Paul won the inaugural 2012 Australian Arts in Asia Award in Dance, a joint win with Bangarra Dance Theatre and the 2013 NSW Premier's Export Scholarship 2013.
Annalouise Paul Dance Theatre has curated festivals, shows and events across Australia and its dance-theatre works have been supported through Australia Council for the Arts, Create NSW, Department of Foreign Affairs, Asialink, Bundanon Trust and National Arts Council Singapore.
With its strong commitment to arts education and community engagement, Annalouise Paul Dance Theatre works with marginalised and at-risk communities across Western Sydney, regional NSW and in Los Angeles and Kolkata.A truly original voice – The Statesman India


Creatives and Collaborators
Annalouise Paul – Concept, Choreography, Direction
Circle of Rhythm – Original Music by Greg Sheehan, Bobby Singh, Ben Walsh
Dancers – Reina Takeuchi, Elena Salerno, Aletta Fauzi, Jia-wei Zuzu, Angelica Oluji, Rayma Johnson


Links
Annalouise Paul Dance Theatre
Collaborator links
Preview here.
You can view this full performance in our Facebook Live Stream here.
Bonniesongs and Jenny Eriksson with Susie Bishop
12 Noon


Jenny Eriksson and Susie Bishop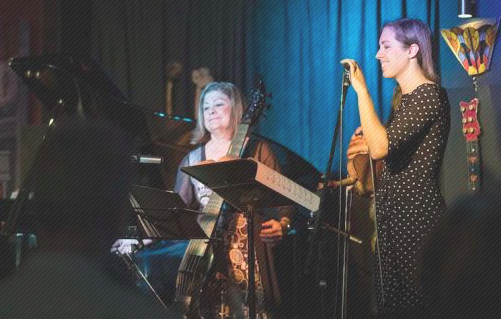 Jenny Eriksson has performed with the Australian Chamber Orchestra, the Victorian State Opera Orchestra, Salút Baroque, Opera Australia, the Renaissance Players, The Early Dance Consort, The Sydney Consort, Sydney Chamber Choir, The Parsons Affayre and numerous other ensembles. In addition to her focus on the early music repertoire, Jenny has commissioned more than 20 new Australian works for the viola da gamba including an Australian first work for viol consort and bass clarinet composed by Paul Cutlan and several new works for the electric viola da gamba by jazz composers Matt McMahon, Matt Keegan and Siebe Pogson.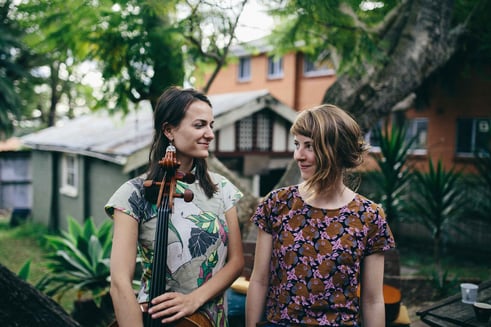 Vocalist/guitarist/drummer Bonnie Stewart moved to Australia from Ireland 6 years ago. Her experimental indie folk project Bonniesongs creates a transcending and transfixing sound. Her lilting vocals float over gentle peaks of acoustic and electronic instruments layered ethereally into what may be a moderately enchanted loop pedal. Collaborating with esteemed cellist Freya Schack-Arnott (Ensemble Offspring) Bonniesongs beguile you into a dreamlike trance in the style of contemporary folk/alternative artists such as Joanna Newsom and Bjork.
"Captivating emotive and atmospheric depth...her songs hold a striking narrative potency" - London In Stereo
"A rising art-folk talent with an off-kilter, dreamlike approach to her genre" - Paste Magazine
Listen to Energetic Mind by Bonniesongs here.
You can view this full performance in our Facebook Live Stream here.