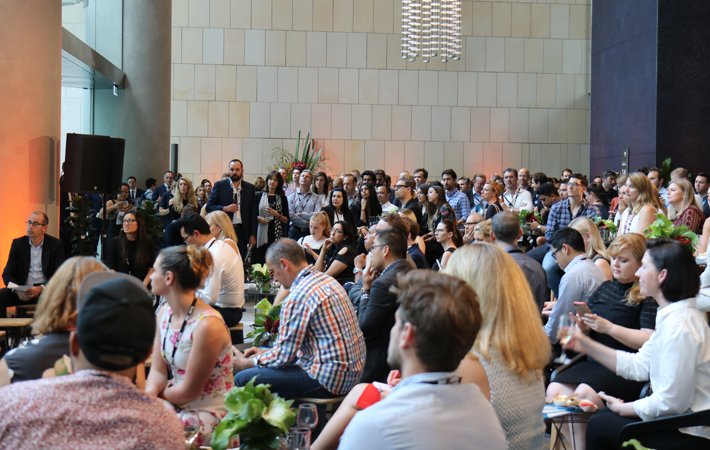 View their talks on entrepreneurial thinking and innovation
Most of the world's great brands and companies share a common beginning – a simple, game-changing idea driven by passionate, entrepreneurial thinking.
If innovation is the lifeblood of an organisation, then 'startups' are the heart of the economy, feeding investment, ideas and growth into a circulatory system that starts local and plays global.
It was fitting that the exploration of start-ups formed the basis of our inaugural 'Make It Happen' event. The very first recommendation of the 2016 StartupAUS Crossroads action plan into developing a vibrant tech startup ecosystem in Australia was the need to create density within a precinct that fosters collaboration and innovation. As Australia's most sophisticated workplace, International Towers Two and Three deliver an inimitable environment for startups and growth businesses to 'make it happen'.
After the public release of the StartupAUS Crossroads Report at Three International Towers, guests enjoyed a feast of business insight from some of Australia's leading minds, thought leaders and most successful entrepreneurs.
Following the release of the report, Alex McCauley, CEO of StartupAUS elaborated on this recent travels to the Startup Nation Summit in Ireland, highlighting the reasons to celebrate the state of innovation and the start-community in Australia.
Paul Basset, Co-founder of Seek and successful venture capitalist shared an impassioned plea to business leaders.
"Our future prosperity as a nation depends on Australia producing world class companies, not just in us consuming new technology" said Paul. "And when we talk about building world-class disruptive companies, it's not about doing things better than other people in Australia. Most big problems that are being solved today and being solved on a global basis, not a local basis. There's no point building the best search engine in Australia."
Paul added we need self-belief, but self-belief is easier when you're inside a community that also believes in you and supports you.
International Towers was honoured to have Susan Wu – lifelong global startup entrepreneur and investor attend the event to share her unique insights into creating a successful startup culture.
"As entrepreneurs, we tackle the seemingly impossible, every single day, intending on disrupting the current world order. It's not good enough to move up a couple of places in the global rankings."
Susan continued: "The real question is: how do we become the very best startup ecosystem in the world? We need to design not just for density but for compactness."
Casey Whitelaw, Engineering Director at Google Australia offered a global perspective to making Australia a true innovation economy.
"We want tech start ups to start here, stay here and to move here, so investing in our start up ecosystem is so important to retaining the bright minds we breed here so plentifully. We need an environment that lets business flourish, take risks, dream big and change the world."
Fittingly, the final word went to host Mark Pesce himself, a globally respected entrepreneur and innovator, and host of the weekly podcast series 'The Week in Startups Australia'
"What we're seeing is that the most innovative businesses are migrating away from twentieth century hierarchical forms into much more flexible models. And this has to be reflected in workspaces and placemaking that is more fluid, is more open, is more flexible and more social. The spaces being created at International Towers are adapting to the way we work now: collaboratively. That investment makes a statement that the future belongs to the agile."