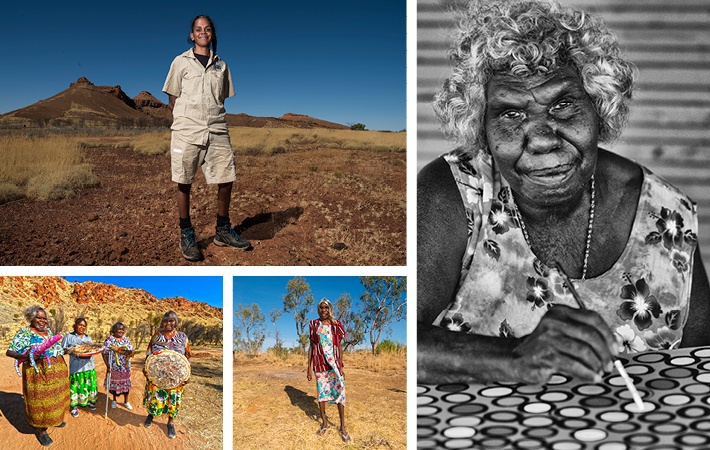 International Towers hosted the mali dharngurr photographic exhibition
In recognition of this year's National Aborigines and Islanders Day Observance Committee (NAIDOC) Week theme 'Because of her we can', we're proud to have exhibited the unique work of renowned Indigenous storyteller, A.Professor Wayne Quilliam, who has travelled Australia to document the life stories of inspirational Aboriginal and Torres Strait Islander women.
A Yolngu Mata interpretation meaning 'looking of voice', this is an exhibition of photographic stories focusing on the empowerment of Indigenous women. The work showcased the real life achievements, experiences and challenges faced by Indigenous women, from rural, remote and urban communities throughout Australia.
The visual narrative, which showcases the real-life achievements, experiences and challenges of grandmothers, mothers, wives, daughters and sisters in rural, remote and urban communities; was featured in the ground foyers of International Towers, Tower Two and Tower Three at Barangaroo.
Open to both tenant partners and the public, the work ran through NAIDOC Week in Tower Three before expanding across to include Tower Two the following week. The exhibition ran until 18 August 2018.
Prof Quilliam is a photographer, artist, film-maker, writer, and cultural adviser with 30 years' experience working in these communities. He has been the official photographer for NAIDOC for 15 years, and was awarded the National NAIDOC Artist of the Year.
International Towers' Head of Marketing & Stakeholder Engagement, Jodie Taylor, said the exhibition continued International Towers' commitment to curating diverse, cultural events for the community, tenant partners and their people.
"We have transformed our foyer areas at International Towers into a performance and gallery space, celebrating the arts, and offering community cross-pollination and continuous learning opportunities for tenants and visitors," she said.
Recent events in the lobbies of International Towers, Tower Two and Tower Three, included a final rehearsal by the St Andrew's Cathedral School choir in April 2018, before they traveled overseas to perform for the Royal Family at Westminster Abbey, representing Australia at the Anzac Day Service.
In September 2017, Swedish photographer Mr Johan Bävman bought his award-winning photography exhibition to International Towers. Mr Bävman created the book and exhibition Swedish Dads to chronicle the experiences of Swedish dads who "choose to stay at home with their child for at least six months".
For Prof Quilliam, the exhibition is the culmination of telling of Indigenous women's stories to an international audience.
"When asked to collect and curate an exhibition by the United Nations (UN) just over four years ago, I was very conscious of philosophising a prescribed, culturally-gendered perspective. My first duty was to reach out to several highly respected women to seek permission and guidance on how these stories should be told," he said.
"The first exhibition at the Palais de Nations in Geneva was seen by just over a million people and created so much interest we asked to develop a second series of work for the UN in New York followed by Germany. To finally share these stories in Australia is testament to the resilience, strength and vision of our women," Prof Quilliam said.
Learn more about A.Professor Wayne Quilliam and his inspirational work at the link below.


| Visit Aboriginal Photography |