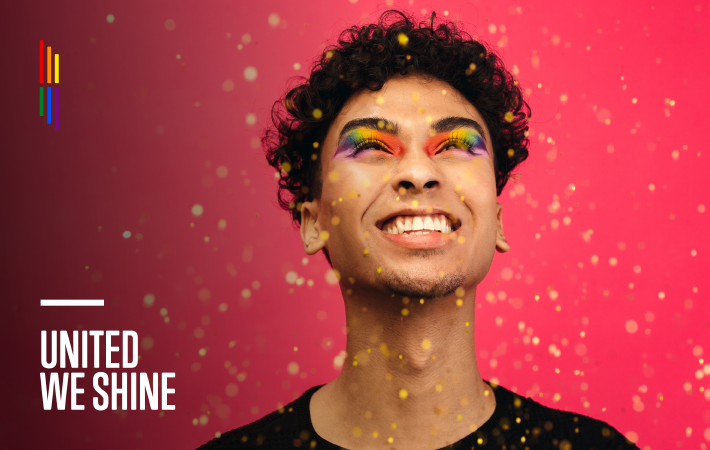 United we SHINE - Our LGBTQIA+ communities shine brighter when we rally together
The most colourful two weeks of the year returns to Sydney from 18 February - 6 March.
In 2022 at the 44th  Sydney Gay and Lesbian Mardi Gras Parade,  we'll shine brighter than ever before.
On March 5th, the nation goes glitter  galore  for the biggest night of LGBTQIA+ celebration,  protest and expression. In 2022 the party returns to the famous Sydney Cricket Ground (SCG) for a world-class stadium spectacular. Uniting over 6500 marchers across 160+ glittering floats, a star-studded line-up of special guests and a couple of surprises – this is one not to be missed!
The display of colour, art and movement will take over the SCG as crowd-favourites 78ers, Dykes on Bikes, First Nations and more come together for Mardi Gras' night-of-nights. The display of queer extravagance has been lighting up Sydney for over four decades, and they're back to shine a spotlight on the communities at the SCG, and to those watching live around the globe.
For access and inclusion information, including how to purchase tickets for accessible seating, please click here. People with access and inclusion requirements are eligible to receive one (1) free ticket with each accessible ticket purchased.
SYDNEY WORLDPRIDE 2023 IS COMING TO SYDNEY
In 2023, Sydney Mardi Gras and Sydney WorldPride unite to present a truly global LGBTQIA+ pride festival - the very first in the Southern Hemisphere.
The theme for the festival, GATHER, DREAM, AMPLIFY, was developed in partnership with our extraordinary First Nations and LGBTQIA+ communities. It acknowledges the traditional custodians of Australia and represents our commitment to equality and inclusion.
Sydney WorldPride will be calling. A calling to come together and participate in a global movement.
More details HERE.