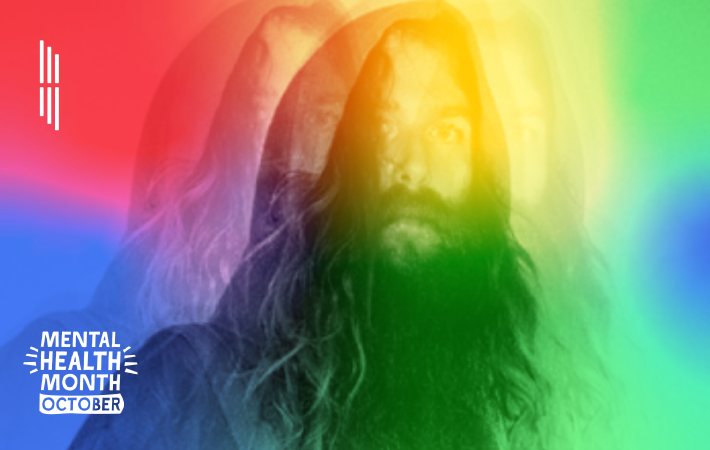 Artist and technician Daniel Stricker joins us to talk about the inspiration and mechanics behind our Mental Health Month Installation.
This October, in celebration of Mental Health Month, we invite you to join us for a conversation with Daniel Stricker, Australian musician and digital artist and inspirational creator of our Mood B'Roo installation screen.

We understand there is often a lot of stigma around talking about our feelings - our hope is that this installation encourages our community to open up about their mental health, check in on those we care for and help people find the resources they need. It's also a chance to have a greater understanding of how the installation works and why we need to have open conversations about Mental Health.
Daniel will be joining us for two days in October, we hope you can join us. Book now through Partner Portal as seats are limited.
Wednesday 11 October
12-12:30pm, Tower Three South Lobby
Wednesday 25 October
12-12:30pm, Tower Two South Lobby
More about Daniel
Daniel Stricker is an Australian musician and digital artist. As a co-founding member of Siberia Records and Drummer in Australian band Midnight Juggernauts, Daniel has been involved in the worldwide music industry over the past 10 years. He has won 2 AIR awards, 1 DMA award, been nominated for 3 ARIA awards and has played at many festivals including Coachella and Primavera.
As part of his digital work, he produced and scored the critically acclaimed VR experience VIA ALICE, a 22 minute VR + live performance alongside Pete Keen, John Carroll Kirby, Le1f, Waangenga Blanco (Bangarra). It toured the world including showings in Mexico, Sydney and Melbourne. In 2018 he created a music, mixed reality and VR piece 'Mindgamers Experience' with Sebastien Tellier and John Carroll Kirby presented by Meta at Semi-Permanent to launch the Oculus Go Headset. In 2019 Daniel, Jamie xx and the Mirarr clan created a VR world with 3D spatial audio soundtrack, representing Sacred Rock Art and dreaming stories (with local youth creating VR components). In 2021 Daniel created Shifting Homes VR with the village of Poutasi in Samoa: a Music and Immersive media piece showcasing at the Venice Architecture Biennale representing Australia and the Pacific.
He has created Mixed Reality Music and Art projects including DeepFaith (all aspects including Music composition, production, Motion Capture, VR), being commissioned by the Sydney Opera House and receiving international acclaim for his Solo works 'Morphin' and 'There will be peace in the Valley' by publications such as Showstudio (Nick Knight).

About Mental Health Month
Mental Health Month is celebrated each year October in NSW. This month encourages all of us to think about our mental health and wellbeing, regardless of whether we may have a lived experience of mental illness or not. It also gives us the opportunity to understand the importance of good mental health in our everyday lives and encourages help seeking behaviours when needed.

In 2023, the theme for Mental Health Month is We all Have a Role to Play.
This Mental Health Month, think about ways you connect with the people around you. Together, we can work towards a world free from mental health stigma. What role will you play?

Whether it is supporting a colleague, running a community event or educating yourself about the importance of mental health language, everyone can play a role.

Together we can create a safe place for those living with, supporting others and receiving mental health support.

| For more information visit mentalhealthmonth.wayahead.org.au |