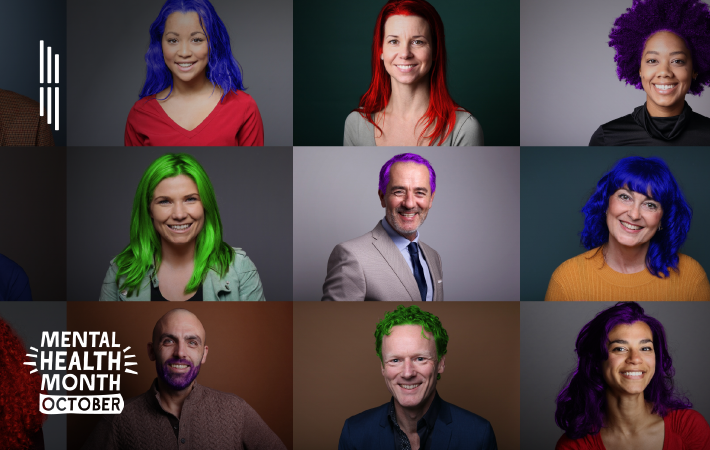 WIN a $300 Barangaroo Precinct Restaurant Voucher.
Enter our fun Instagram contest with weekly winners and a grand prize. Follow our step by step instructions to WIN big this October!

Step 1: Scan the QR Code that corresponds to your mood on the large sign next to the giant mood screen in the Lobbies of Tower 2 and Tower 3 at International Towers. Or click the links below from your mobile device.
Step 2: Instagram with automatically open up on your mobile device.
Step 3: Take a selfie with your brightly coloured hair.
Step 4: Share your Post, Story or Reel, making sure you tag @internationaltower and #moodbroo, and add a caption.
Your profile will need to be public or we must be following you to find your photo.
We have $1200 worth of prizes to be won for the best caption.
The best caption will be judged by the International Towers Management team and winners will be announced via the weekly newsletter on 10, 17, 24 and 31 October 2023 and published below.
Our Weekly Winners are:
10 October - Congratulations to Ifrah from Accenture.
17 October - Congratulations to Eva from Accenture.
24 October - Congratulations to Elizabeth from Lendlease.
31 October - Congratulations to Simonne from Lendlease.

Grand Prize Winners - Congratulations to Aivee and Karrie Accenture.
Prizes
Every week for 4 weeks we will be giving away a $300 Barangaroo precinct restaurant voucher for Lotus, Nola, Bottega Coco or Cardea restaurants.
Plus at the end of the competition we have an amazing grand prize for 2 lucky people, $500 gift certificate to a spa.
Remember you need to be a member of the International Towers Partner Portal to qualify for a prize, terms and conditions are at the bottom of this page.
Terms and Conditions
In line with The Community Gaming Act 2018 and the Community Gaming Regulation 2020 started on 1 July 2020, we outline the "rules" of this competition as follows. When you enter one of our competitions, we will assume that you have read these rules and that you agree to them.
Competition is open to members of International Towers Partner Portal only. Not a member? Register here with your work email to participate.

Members of the Partner Portal are encouraged to enter as many times as they like.

The closing date is as specified in each competition, and International Towers reserves the right to amend the competition end date at any time.

By entering the competition, the winner agrees to participate in any such promotional activity and material as International Towers may require.

No part of a prize is exchangeable for cash or any other prize.

There are 6 prizes in total.

4 x $300 Barangaroo precinct restaurant vouchers. Vouchers are for Lotus, Nola, Bottega
Coco, and Cardea Restaurants and will be handed out by International Towers and are final.

2 x $500 Gift Certificates to a spa

to the value of $500 each.

If an advertised prize is not available, we reserve the right to offer an alternative prize of equal or greater value.

Entrants must post their image to Instagram, use the Mood B'Roo Filter with a caption and tag

@internationaltower and #MoodBRoo in order to enter the competition.

6 winners will be selected by the International Towers Management Team, who will judge t

he best caption for 4 x weekly and also 2 x grand prizes

.

Incorrectly completed entries will be disqualified.

Distribution and or collection of prizes will be coordinated by International Towers Concierge.

This competition is brought to you by International Towers Partner Portal and has no affiliation with, association to, authorisation or endorsement by Apple iOS and Android or any of their subsidiaries.

International Towers reserves the right to amend these rules at any time. International Towers may also create rules which will apply to a specific competition only. If we do this, then we will publish the amended competition rules and/or specific competition rules on the relevant competition page.