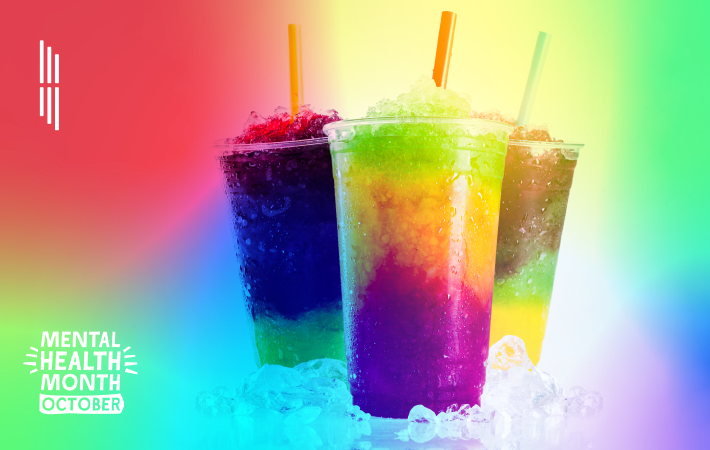 Beat the heat with a custom slushie to celebrate Barangaroo's mood of the month.

Join us to celebrate the overall Mood of the Month for Mental Health Month with an ice cold slushie. The slushie colour and flavour will match the predominant hue displayed on the big screen over the last month. If you haven't filled out the iPad questionnaire and seen your mood displayed as one of 5 exquisite and ethereal videos, make sure to do so soon, and be part of the Mood B'Roo movement.
When: 12-1pm Thursday 26 October
Where: Tower 3 South Lobby
No bookings are required, but Slushie's will be limited so arrive early to avoid disappointment.
We look forward to having you join us for this special occasion, where we can celebrate and reflect on the month that has passed.

About Mental Health Month
Mental Health Month is celebrated each year October in NSW. This month encourages all of us to think about our mental health and wellbeing, regardless of whether we may have a lived experience of mental illness or not. It also gives us the opportunity to understand the importance of good mental health in our everyday lives and encourages help seeking behaviours when needed.

In 2023, the theme for Mental Health Month is We all Have a Role to Play.
This Mental Health Month, think about ways you connect with the people around you. Together, we can work towards a world free from mental health stigma. What role will you play?

Whether it is supporting a colleague, running a community event or educating yourself about the importance of mental health language, everyone can play a role.

Together we can create a safe place for those living with, supporting others and receiving mental health support.

| For more information visit mentalhealthmonth.wayahead.org.au |