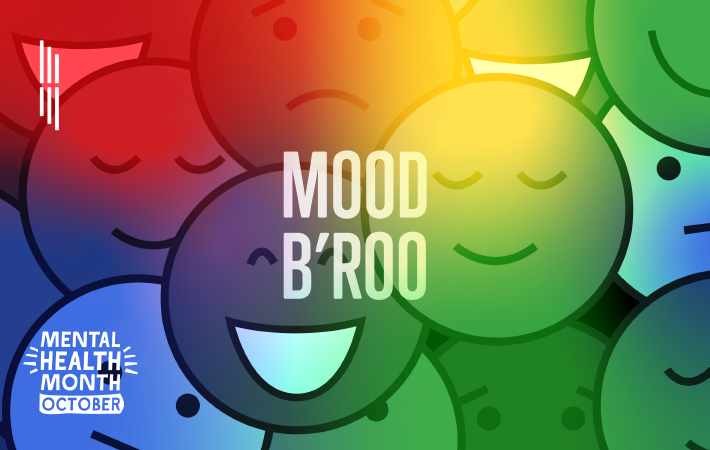 In celebration of Mental Health Month, turn your feelings into art.
Are you feeling happy, excited, calm, indifferent or discontent? October is Mental Health Month, and to mark this occasion we have installed a giant mood screen in the Lobbies of Tower 2 and Tower 3 at International Towers.
Our expansive mood screen adapts its colour scheme and design based on your mood, drawing insights from the responses provided in our tailored questionnaire. Each time someone finishes filling out the iPad form, the screen will undergo a transformation in response to their mood.
Furthermore, every day at 4pm, we will calculate the average mood for the day and present it on the screen, where it will remain visible until 8am the following morning.

Why did Barangaroo install a giant mood screen?
October is Mental Health Month. We understand there is often a lot of stigma around talking about our feelings - our hope is that this installation encourages our community to open up about their mental health, check in on those we care for and help people find the resources they need. It's also a chance to promote activities and ideas that can have a fun and positive impact on our daily lives and the lives of others.
Is this a scientifically proven way to determine my mood?
Absolutely not. This is a fun interactive art installation that's designed to get people to think about how they're feeling, but it is not a scientific or medical diagnosis of any kind.
Will Barangaroo or any company in the building be able to use my data without permission?
Absolutely not. These forms are anonymous and the answers will be discarded at the end of the project. None of this information will be used or shared for anything other than to help enhance the art installation and display.
How exactly does the tech work?
Answers to each question on the questionnaire have a numerical value from 1 to 10. These numbers are added up to create a total that is between a range of 1-70. The range of numbers are divided into 5 (1-14; 14-28; 28-42; 42-56; 56-70) and each range triggers a different mood and corresponding colour. The resulting data mix triggers the AI algorithm to interpret that mood in its way and the evolving results are displayed on the screen.
Can I answer the questionnaire more than once, and on multiple days?
Absolutely! Feel free to come back any time over the month of October and update or check your "mood." This is a fun and interactive art installation, and we encourage everyone to use it as many times as they'd like.
Are there prizes to be won for my participation?
Absolutely! We have a fun Instagram Caption Contest with 4 weekly winners and a grand prize announced at the end of the month.
Our Competition
To enter the contest, scan one of the QR codes on the large sign next to the screen in the lobby that corresponds to your current mood. Your device will be taken to Instagram, and the corresponding mood filter will be applied to your photo.
Post your photo including your caption making sure to tag @internationaltower and use the hashtag #MoodBRoo. Your profile will need to be public or we must be following you to find your photo.
The best caption will be judged by the International Towers Management team and winners will be announced via the weekly newsletter on 10, 17, 24 and 31 October 2023.
Prizes
Every week for 4 weeks we will be giving away a $300 Barangaroo precinct restaurant voucher for Lotus, Nola, Bottega Coco or Cardea restaurants.
Plus at the end of the competition we have an amazing grand prize for 2 lucky people, $500 gift certificate to a spa.
Remember you need to be a member of the International Towers Partner Portal to qualify for a prize, terms and conditions are at the bottom of this page.
About Daniel Sticker

Daniel Stricker is an Australian musician and digital artist. As a co-founding member of Siberia Records and Drummer in Australian band Midnight Juggernauts, Daniel has been involved in the worldwide music industry over the past 10 years. He has won 2 AIR awards, 1 DMA award, been nominated for 3 ARIA awards and has played at many festivals including Coachella and Primavera.
As part of his digital work, he produced and scored the critically acclaimed VR experience VIA ALICE, a 22 minute VR + live performance alongside Pete Keen, John Carroll Kirby, Le1f, Waangenga Blanco (Bangarra). It toured the world including showings in Mexico, Sydney and Melbourne. In 2018 he created a music, mixed reality and VR piece 'Mindgamers Experience' with Sebastien Tellier and John Carroll Kirby presented by Meta at Semi-Permanent to launch the Oculus Go Headset. In 2019 Daniel, Jamie xx and the Mirarr clan created a VR world with 3D spatial audio soundtrack, representing Sacred Rock Art and dreaming stories (with local youth creating VR components). In 2021 Daniel created Shifting Homes VR with the village of Poutasi in Samoa: a Music and Immersive media piece showcasing at the Venice Architecture Biennale representing Australia and the Pacific.
He has created Mixed Reality Music and Art projects including DeepFaith (all aspects including Music composition, production, Motion Capture, VR), being commissioned by the Sydney Opera House and receiving international acclaim for his Solo works 'Morphin' and 'There will be peace in the Valley' by publications such as Showstudio (Nick Knight).
Are you or someone you know struggling with mental health issues,

please see a list of a few resources that could help.

Life Line: 13 11 44
Volunteer crisis supporters provide suicide prevention services, mental health support and emotional assistance. For more information visit lifeline.com.au.
Kids Helpline: 1800 55 800
Kids Helpline is Australia's only free (even from a mobile), confidential 24/7 online and phone counselling service for young people aged 5 to 25.
QLife: 1800 184 527
Counselling and referral service for LGBTIQ+ individuals (3pm to mid-night daily or chat online)
Beyond Blue: 1300 224 636
They provide support programs to address issues related to depression, suicide, anxiety disorders and other related mental illnesses.
MensLine: 1300 78 99 78
A free national counselling, information and referral service for men across Australia, specialising in mental health, and family and relationship concerns.
Terms and Conditions
In line with The Community Gaming Act 2018 and the Community Gaming Regulation 2020 started on 1 July 2020, we outline the "rules" of this competition as follows. When you enter one of our competitions, we will assume that you have read these rules and that you agree to them.
Competition is open to members of International Towers Partner Portal only. Not a member? Register here with your work email to participate.

Members of the Partner Portal are encouraged to enter as many times as they like.

The closing date is as specified in each competition, and International Towers reserves the right to amend the competition end date at any time.

By entering the competition, the winner agrees to participate in any such promotional activity and material as International Towers may require.

No part of a prize is exchangeable for cash or any other prize.

There are 6 prizes in total.

4 x $300 Barangaroo precinct restaurant vouchers. Vouchers are for Lotus, Nola, Bottega
Coco, and Cardea Restaurants and will be handed out by International Towers and are final.

2 x $500 Gift Certificates to a spa

to the value of $500 each.

If an advertised prize is not available, we reserve the right to offer an alternative prize of equal or greater value.

Entrants must post their image to Instagram, use the Mood B'Roo Filter with a caption and tag

@internationaltower and #MoodBRoo in order to enter the competition.

6 winners will be selected by the International Towers Management Team, who will judge t

he best caption for 4 x weekly and also 2 x grand prizes

.

Incorrectly completed entries will be disqualified.

Distribution and or collection of prizes will be coordinated by International Towers Concierge.

This competition is brought to you by International Towers Partner Portal and has no affiliation with, association to, authorisation or endorsement by Apple iOS and Android or any of their subsidiaries.

International Towers reserves the right to amend these rules at any time. International Towers may also create rules which will apply to a specific competition only. If we do this, then we will publish the amended competition rules and/or specific competition rules on the relevant competition page.