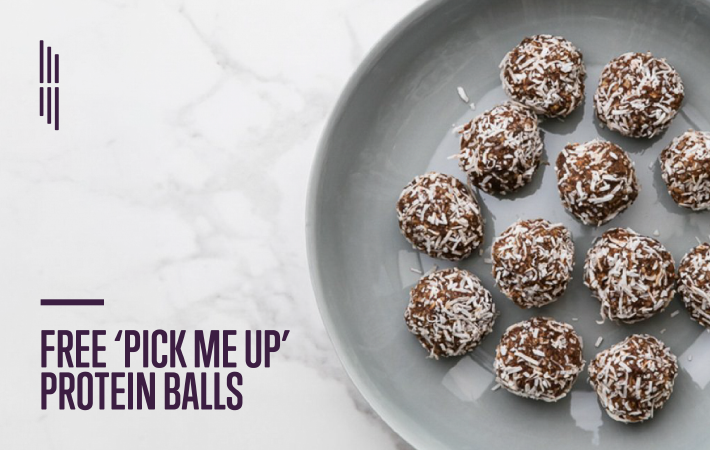 On Tuesday 10th May, don't miss your delicious, nutritious, totally free 'pick me up' protein ball, cooked with love by survivors of domestic violence
As one of our many initiatives and activities to contribute to Domestic Violence Awareness Month, our partnership with community-minded foodies Two Good Co. is bringing delicious, nutritious 'pick me up' protein balls to the Towers, created with skill and love by the women employed by Two Good's Work Work program.
The Work Work program employs women with lived experience of domestic violence and homelessness, and this employment helps empower those women with the skills, support and confidence they need to break free and build a new life.
By enjoying your delicious protein ball, you donate to people in need
Our do-good partnership with Two Good means that for every single protein ball given away on the day, we will donate one of Two Good's delicious meals to a women's refuge shelter. (In fact, if you use any service or join in any activity using our Partner Portal during May, you'll generate another meal donation – check out the XXOO art installation in the lobby to see how many meals have been donated during this campaign).
Stocks are limited to just 150 balls, so come by early to secure yours.
Don't miss this deliciousness, open to all Partner Portal members
The culinary talent at Two Good's Work Work program is incredible, but even with such great skill they can only make a limited number of protein balls, so to avoid disappointment make sure your phone is logged into the Partner Portal and be ready to show it to our team in the lobby.
Tuesday 10th May - Pick up your 'pick me up' protein ball
Tower 2 lobby, between 8.00am & 9.30am

Tower 3 lobby, between 12.30pm & 2.00pm
IMPORTANT: Please make sure your phone is logged into the International Towers Partner Portal so you can see the special code, and please be ready to show your phone open on this page to our team in charge of the protein balls.
If you're a member of the International Towers community but haven't joined the Partner Portal yet, join today using the link below and get access to all our free services, activities and gifts.
****

May is Domestic Violence Awareness Month. Want to help? Get acquainted with The XO Project, our joint initiative with Two Good Co. Throughout the month, across our portfolio of commercial buildings, we'll be donating over 5,000 meals to those experiencing homelessness, food insecurity and domestic violence. Each time you interact with a Partner Portal event or giveaway, we'll be donating meals to women in need. And, when someone new signs up, we'll double it. So, make your voice heard. Participate. Grab a freebie. Every time you do, you'll be helping someone in need. To find out more, click here.
If you or someone you know is in need of support or in crisis, support is available - 1800RESPECT 1800 737 732. In the event of an emergency, call 000.