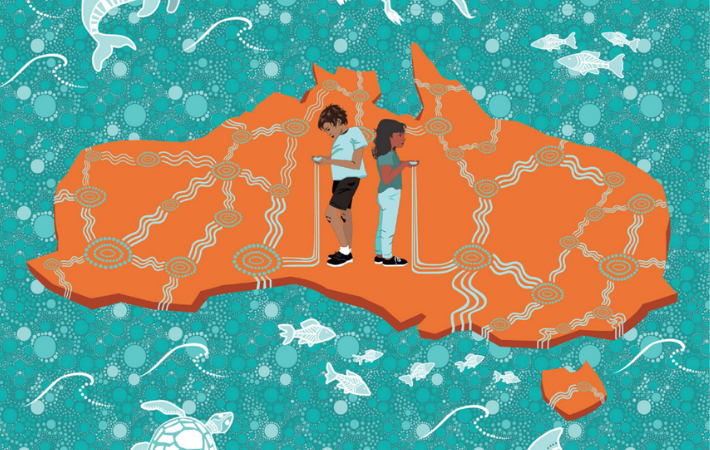 For the 4th year running, we were proud to support and show artwork for one of the best school programs on the planet
At International Towers, traditional owners of the land and their rich stories have always been a huge focus.

Located in the captivating precinct of Barangaroo, which pays homage to an extraordinary First Nations woman, we are deeply committed to honouring and celebrating Aboriginal and Torres Strait Islander Australia.
For the fourth consecutive year, we proudly support the Schools Reconciliation Challenge, an initiative aimed at educating students about our indigenous culture and fostering positive contributions to society.
Every year students from NSW and the ACT create artworks and stories inspired by a theme, and to reflect on what reconciliation means to them.
The remarkable artwork submitted by students in last year's challenge, celebrating the theme, "From River to Sea: Our Island Home" is on display at International Towers from the start of National Reconciliation Week until the end of NAIDOC week.
The exhibition will coincide with the Aboriginal, Torres Strait Islander and Australian flags flying in unison across International Towers.
When: Saturday 27 May - Friday 9 June
Where: Tower 2 & Tower 3 Lobby, International Towers
To read more about this years challenge, visit the Schools Reconciliation Challenge website.


About the Schools Reconciliation Challenge
Reconciliation NSW is the peak body for advancing reconciliation in NSW. For more than 25 years, their programs, campaigns and resources have been guided by Aboriginal and Torres Strait Islander peoples and are designed to inspire and support the people of NSW, in deepening their understanding of a reconciled, just, and equitable community. Aboriginal and Torres Strait Islander Peoples are acknowledged as the First People of this land and the body aims to amplify their voices through a collaborative approach to reconciliation. Their work builds and supports a deeper understanding of how to deliver meaningful change and create a better future for all Australians.
The Schools Reconciliation Challenge is a premier program offered by Reconciliation NSW. Now in its 14th year, the challenge is a way for students to learn about Aboriginal and Torres Strait Islander Australia and contribute positively to Australian society.
Since 2019, the International Towers support of the Schools Reconciliation Challenge has included financial and in-kind donations, and we've also had the pleasure of participating on the art judging panel.
The strong sense of pride and empowerment felt by students and their communities to see their artwork showcased in a state-wide exhibition is immeasurable. Not only does this provide a great outcome for students, but it also helps build and support a deeper understanding within the wider community about how to deliver real change for NSW.