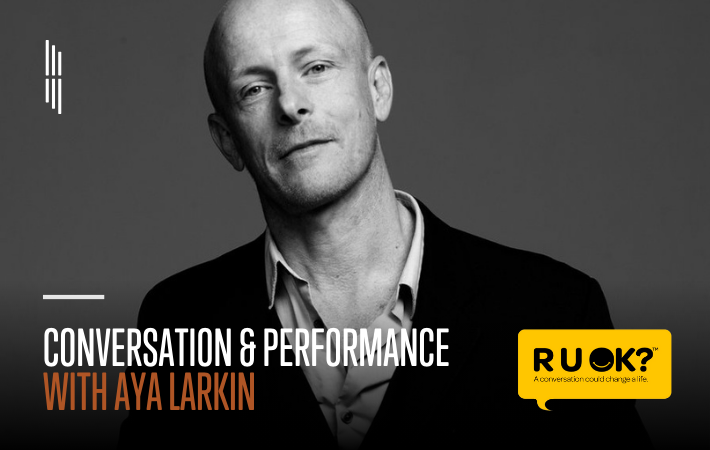 Join us for this special event on Thursday 14 September.
On Thursday 14 September we will host a special performance and conversation with Aya Larkin, the brother of the late Gavin Larkin, who founded the charity R U OK? over 12 years ago.
RUOK? The initiative to encourage people to have conversations with people dealing with dark times in their lives started after Gavin and Aya's dad, Barry, took his own life at the age of 54. Aya is also the lead singer of well-known Aussie band Skunkhour.
Join us to see Aya introduce RUOK? Day and talk about the importance of having conversations with your family, friends and colleagues and perform a guitar solo.
To reserve your spot for this event, kindly register through the Partner Portal. We recommend arriving early as there are only 40 seats available plus standing room only when all chairs are allocated.
When: 12:30pm Thursday 14 September
Where: Tower Three South Lobby, International Towers



About RUOK? Day
RUOK Day 2023, celebrated on September 14th, marks an important opportunity for individuals and communities to come together and prioritise mental wellbeing. This annual event encourages open conversations and connections, emphasizing the power of asking a simple yet profound question: "Are you okay?"
In a world that often moves too fast, RUOK Day serves as a reminder to slow down and connect on a deeper level with friends, family, and colleagues. It's a day to actively listen, support, and offer a helping hand to those who may be struggling with their mental health.
So, on RUOK Day 2023, let's make an extra effort to check in on our loved ones and those around us. A simple conversation can make a world of difference in someone's life. Together, we can create a more compassionate and supportive world where everyone feels valued and heard.