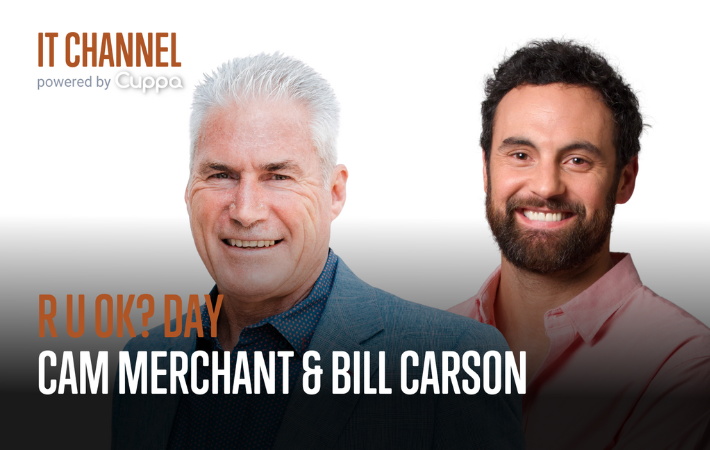 Learn How to Foster Deeper, Authentic Connections and Hold Supportive Conversations
Join Cuppa host,
Cam Merchant
, for our special R U OK? Day masterclass and discover the art of building profound, genuine connections that go beyond the typical "RUOK?" exchange.
Accompanied by our expert guest,
Bill Carson
, a visionary leader and catalyst for change in the realm of mental health and resilience, this masterclass will equip you with practical strategies for navigating conversations when someone is grappling with mental health challenges. This engaging session combines storytelling and education, making it an unmissable event.
When:
12:30pm Thursday 14 September
Duration:
45 Minutes
More About Our Panel:
Bill Carson is a visionary leader and a catalyst for change in the field of mental health and resilience. As a facilitator, he is dedicating his career to helping individuals and communities overcome the challenges associated with mental health issues. With his deep empathy and unwavering commitment, Bill has empowered countless individuals to develop the skills and strategies necessary to enhance their mental well-being and build resilience.

Through his dynamic and engaging facilitation style, Bill has become a trusted resource for organisations and communities seeking to create a culture of mental wellness and support, making him a highly sought-after leader in the field of mental health.

Bill is also a committed Lifeline Volunteer Telephone Crisis Supporter having done over 650 hours over the past six years.

Bill has recently published "SAFE Conversations for Work and Life." How to mental health and wellbeing conversations that make a difference in someone's life.
Cam Merchant From playing professional cricket both here in Australia, New Zealand & overseas, to being a contestant on Married at First Sight in 2019 where he met his now wife Jules Robinson, and is a loving father to his son Ollie… Cam Merchant has lived an extraordinary life

Today Cam, grateful through his own previous personal struggles now believes that hitting rock bottom was the foundation in which he built his life.

High energy, lover of life & appreciative of all it has to offer if you open yourself up to it!

He works as a mentor & performance coach with young males & presents for Gotcha4Life, where it is his personal mission to engage, educate & empower those who may be struggling with a challenge to help people evolve, become self aware & accepting so that they can give themselves permission to succeed by taking action in unlocking their full potential