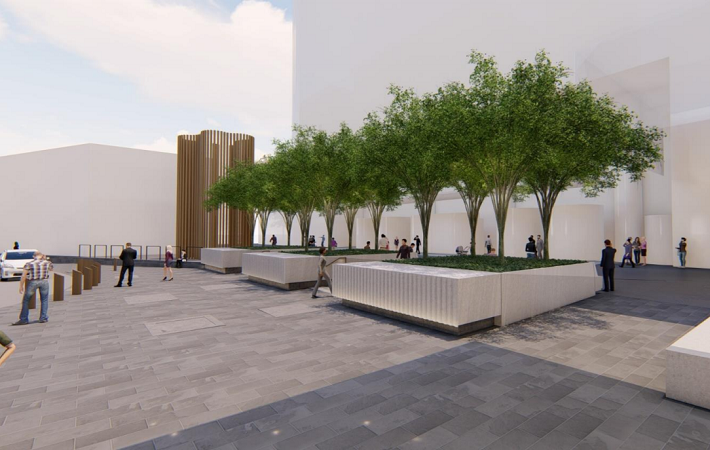 What is the Shelley Street Public Domain Works project?
There are more enhancements to the Shelley Street public domain area on the way in the very near future, which will further promote the space as a vibrant, engaging workplace environment for the whole community.
This next stage of the Shelley Street project has been described by Infrastructure NSW as "completing the urban fabric of Barangaroo South, where it meets Wynyard Walk and the King Street precinct".
The improvements:
- Replacing the existing pavement with new pavers, kerbs and bollards.
- Installing new stormwater facility, watermain, electrics, lighting and irrigation.
- Landscaping, including installation of planter boxes, shrubs and trees.
The impacts:
Ford Civil have been contracted to perform the upgrade. There will be some diversions around the site for safety reasons and noise impacts can be expected from machinery, hammering and saw cutting – however these impacts will be minimised wherever possible, and our lunchtimes will be protected by a promise that "no noisy works will be carried out between 12pm and 2pm".
The timings:
The worksite will be active as follows:
Starting end of June, to last for about 6 months weather permitting
Mondays to Fridays, 7am to 6pm
Saturdays, 8am to 1pm
The contacts:
If you have any queries or require further information, please do not hesitate to contact Infrastructure NSW direct:
Phone: 02 9255 1700
Email: Barangaroo.info@infrastructure.nsw.gov.au
The Ford Civil management site contact is:
Ray Khaushu: 0417 060 521
Plus of course, your friendly International Towers team are always here to help with anything you need assistance with.