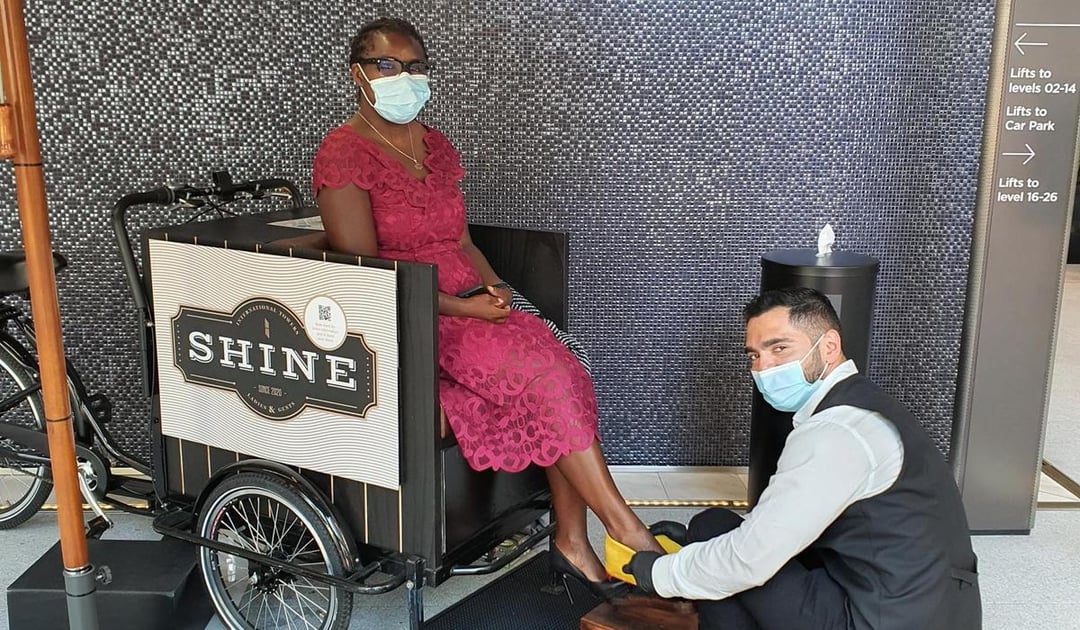 "If both of your shoes are shined, then your best foot will always be forward" - Maryrose Wood
Photo: Welcome to our first shoeshine customer back in the chair.
We are delighted to announce the return of free shoeshines at our cute, custom-made shoeshine cart in the Tower Three lobby on Tuesday, Wednesday and Thursday mornings between 8am and Midday.
Our complimentary shoeshines are one of our most popular services, loved by many of our tenant partners. Since it's introduction, we have shined nearly 1000 pairs of shoes and counting.
To celebrate the return of this service - which ranks in our 'top 5' experiences – we thought we'd share some fun facts and a bit of history behind the idea.

The idea… was inspired by 'The Prince's Consort' shoeshine service in the Strand Arcade on George Street in Sydney's CBD.

The cart… was custom-made for renowned shoe designer Julius Marlow in a film shoot, after which we were lucky to get the chance to buy it from them.
The rest.. the market umbrella sourced from an Australian business - Shelta based in Melbourne. Each Shoeshine accessory has been custom designed and crafted by a boutique designer Design N Solutions, based in Sydney. Not to be overlooked is our "modesty" knee rug, woven by an iconic Australian knitting company – Otto and Spike, utilising Australian grow wool yarn.

The popularity… even after Covid arrived and so many of us started working from home, the shoeshine cart was still fully booked on many days.

The shoe shine technicians… take their craft very seriously, constantly practicing and keeping up to date with the latest techniques.

And don't forget, it's completely free. As long as you're a tenant in Tower Two, Tower Three or International House and a member of our Partner Portal, your shoeshine is completely free, with our compliments.

When: Tuesdays, Wednesdays and Thursdays
Time: 8am-12pm
Duration: 1 x 15 min spot per person, one person at a time
Cost: FREE
Description: A free shoeshine for one standard pair of leather shoes, colours available = clear, navy, brown, and black.
Book now via the Partner Portal.
"If both of your shoes are shined, then your best foot will always be forward"
Maryrose Wood