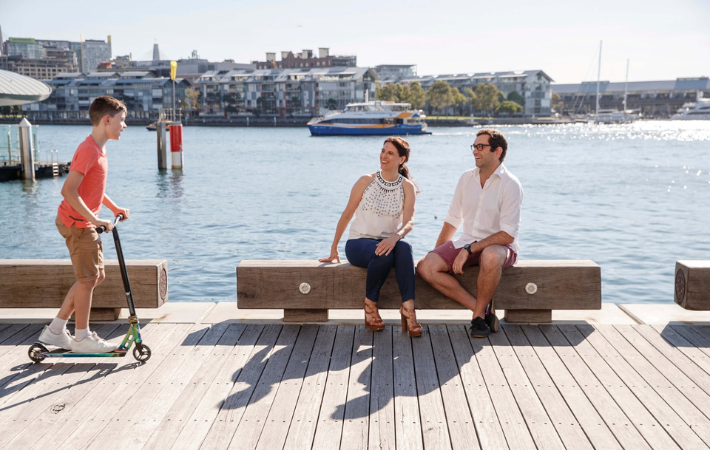 Looking for fun school holiday activities? There's plenty of things to do at Barangaroo

Spring is here and there is no better time than the school holidays to explore Barangaroo. Join in our educational and entertaining Kids Caring for Country school holiday program, take a dip in the harbour or simply take a ferry ride out for an adventure. Check out our guide to spring school holidays below.
When: 23 September 2023 to 08 October 2023
Free family activities

Take a dip at Marrinawi Cove
Grab your towel and enjoy a swim in Marrinawi Cove. Located in a beautiful and sheltered spot at the northern end of Barangaroo Reserve.
| Find out more |

Harbour Park community rec space
Discover the new community recreation space with an outdoor gym, handball courts and shaded areas, perfect for an entertaining pit stop on your walk around Barangaroo foreshore.
| Find out more |

Explore Barangaroo Reserve
Pack a picnic or go on a leisurely stroll around Barangaroo Reserve. Enjoy large open space with 75,000 native plants and shrubs and beautiful views of the harbour.
| Plan your visit |

Go on your own art trail
Barangaroo is home to plenty of stunning public art pieces that are completely free to view and all a short walking distance from each other.
| Find out more |

View Mermer Waiskeder sting rays
Discover a vibrant fever of hand-stitched eagle rays encircling the canopy of Exchange Square, adjacent to Tower Three. Download this fun drawing activity to sketch on your visit.
| Find out more |

Take a ferry ride
Take the scenic route and get the F3 or F4 ferry service straight to Barangaroo Wharf. Feel the breeze in your hair and enjoy the water views and Barangaroo from afar!
| Plan here |
Family friendly eats and treats

Batch Coffee
Head to Batch Coffee for delicious coffee and a selection of handmade pastries and snacks to-go.
| Find out more |

Costi's Fish & Chips
Enjoy fresh seafood caught and cooked daily. Grab something and sit by the water at Watermans Cove or head to Barangaroo Reserve for a family picnic.
| View menu |

Rivareno Gelato
This is gelato as it should be - made fresh every day using traditional recipes and seasonal produce. Check out their flavour of the week or try one of your favourites.
| Find out more |

Winghaus
Treat the kids to a delicious range of flavoured chicken wings plus pretzels, chicken sandwiches, burgers, nachos, schnitzels, potato gems, onion rings, sauce-loaded fries and more.
| View menu |

Zushi
Sushi, sashimi and sharing plates, crafted from fresh, locally sourced ingredients. Experience Japanese cuisine and harbour views at Zushi.
| Find out more |

TITLE bookshop
Limited-edition music, books and films, all in one place. Visit TITLE to hunt down those hard-to-find gems.
| Find out more |