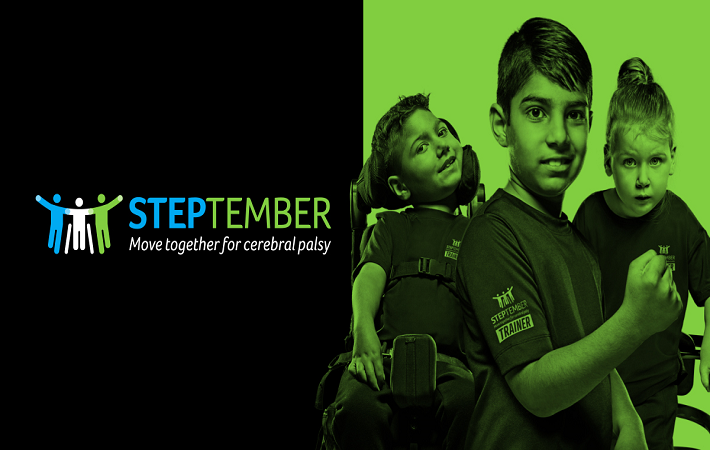 Let's move together for Cerebral Palsy
Cerebral palsy is the most common physical disability in childhood. It's caused by damage to the developing brain either during pregnancy or shortly after birth – directly affecting a person's movement and posture for life.
STEPtember is a fun, safe and virtual event that challenges you to walk, swim, ride, wheel or spin your way to 10,000 steps per day for 28 days in September. Organisations and individuals can also participate by signing up for STEPtember's health and wellness fundraising event.
Make each step count by helping improve the lives of children and adults who live with cerebral palsy. No matter how you choose to participate from, every step you take and every dollar you raise supports a wide range of initiatives, helping people living with cerebral palsy to live their best lives.
Our very own team members: Chetan, Shane, Luke and Chris are walking 10,000 steps each day for 28 days to help make a difference to the lives of children and adults with cerebral palsy. Chetan and Shane told us why they are taking part in STEPtember this month.
"For me personally, participation is about supporting a great cause, consciously being physically active and demonstrating to Anushka not only the importance of Health and Wellbeing but also the importance of working selflessly towards supporting a charitable cause." Chetan Thaker, Commercial Manager, International Towers
There are several reason's why Steptember is quite an important time, when growing up in Maroubra, my next door neighbours youngest son (siblings of 3 girls), was born with Cerebral Palsy. I grew up in a cul-de-sac with a lots of kids in the street, and I saw first hand how difficult it was for him and his family on just simple tasks. As kids we would play in the cul-de-sac, and would always include him in our games etc. It made me realise as a young kid, that whilst this is hard for him and the family, as a more able body person, keeping him involved and taking the time to allow him to have the fun that we had was so important. To see the difference we made for him and his family in such a small way, was truly an amazing feeling.
Another reason for participating is showing my daughter, that contributing our own time and supporting those that are affected by any disease, is very important for our future generation to understand. Empathy, Compassion and heartfulness is so important to me for my daughter to grow up with and continue to help others wherever she can.
And of course, the challenge, doing with this with a great group of guys, wanting to make a difference to others, but also trying ourselves to get healthy, keep healthy and align to our wellness platform." Shane Mulcahy, Head of Engineering, Sustainability & Operations


| Learn more about STEPtember or donate here |