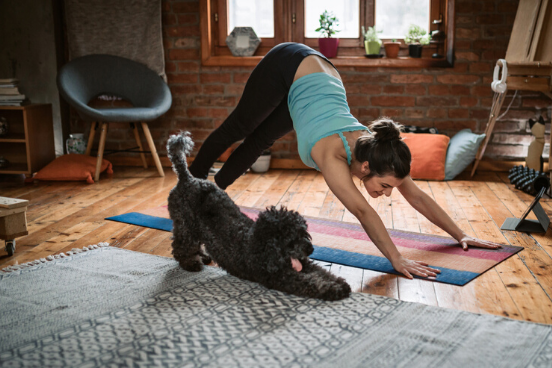 Mindfulness, pilates, yoga and bootcamp sessions online
We've never needed to invest time in maintaining our physical and mental wellbeing than we do right now. While we've had to pause our regular on-site wellness programs to accommodate social distancing rules and people within our community who are working from home, we're proud to announce a new online program that everyone can enjoy from the comfort of their own space.
Our regular program of mindfulness, pilates, yoga and bootcamp sessions will now be conducted LIVE through Zoom. It's an opportunity for you to engage with our qualified trainers, as well as others within our community, some of whom you may have met in previous classes.
If you can't make the LIVE classes, recordings will also be available on the
Partners Portal
for you to enjoy any time.
New classes will be hosted LIVE Monday to Thursday every week. It's a unique opportunity to support your wellbeing while self isolating, and to maintain human connectedness with your International Towers community colleagues.
If that wasn't enough wellness, we are also sharing daily pre-recorded classes for your you to watch at your leisure. Season 1 Episode 1 will launch on Monday 20 April, along with our live online classes.
To join live classes, watch a recording of a live class or watch one of our pre-recorded classes, you will need to be logged into our Partner Portal.
Some useful information about our online classes:
Suitable for people of all fitness levels.
Pre-recorded sessions will range from 15 to 20 minutes, our live Zoom classes will run for 45 minutes, open a few minutes earlier, so we can say hello to each other.
Recordings of the sessions will be shared with the tenant community after class.
The use of your video is optional.
Once classes commence, all participants will be muted, but we welcome questions and comments through the Zoom chat function.
You won't need any equipment apart from your mat.
Classes continue to be brought to you by Urban Flow, so you should recognise a few faces.
No need to book onto classes, although we do have limited capacity and this will be determined on a first come first served basis.
Our schedule will continue exactly as it used to - see out What's On page for timings.
You will need to join audio with your computer to hear your teacher.
If you have a question or comment for the group, you can use the chat.
If you have a question, just for your teacher, please use the Q&A.
We hope you enjoy these wellness classes wherever you may be.