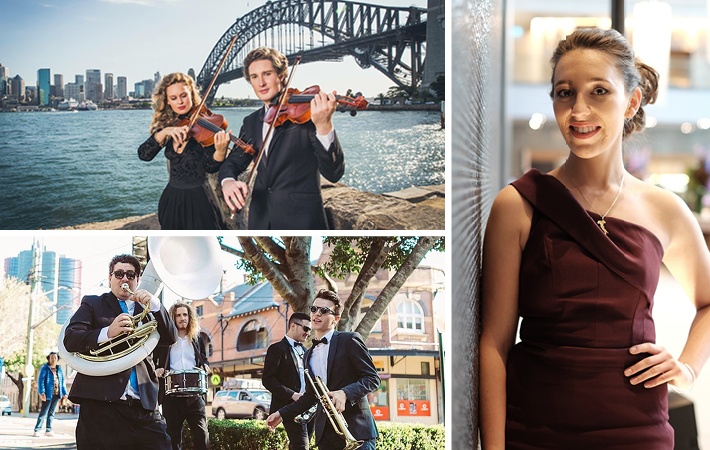 Conservatorium came to us this Christmas
As part of the International Towers cultural partnership with Sydney Conservatorium of Music, we have filled our lobbies with the sounds of Christmas and cult classics, performed by some local budding professional musicians.
The partnership saw aspiring talent – current students and recent graduates from the Conservatorium - given the platform to perform their own music within the lobbies of Tower Two and Tower Three.
Every day (Monday - Friday) morning and lunchtime performances by soloists and groups were held from 11th to 22nd December. They delivered a diverse soundtrack of musical styles for our community to enjoy, including operatic and jazz vocals, classical guitar, funk, jazz and a brass quartet.
Read all about our musicians in their bios below:
Kartik Kuna- Kartik Kuna was born in Singapore and grew up in Tasmania.

The current Classical Piano Major at the Sydney Conservatorium of Music is also a professional singer/guitarist, entertaining crowds at weddings and corporate events all over NSW. His singer/songwriter style fuses Pop and R&B, creating a unique flavour for the listener's palate. His debut EP Wanderlust can be found on Spotify.

I

n May 2017, Kuna was handpicked to be part of Hans Zimmer's Show Choir – a massive feat for the versatile 22-year old who exhibits endless possibilities and the power to inspire.
Paragon Brass- Paragon brass are a brass quintet formed in 2015

performing music from a wide variety of musical genres, including that of the renaissance, baroque, classical and romantic periods, as well as more contemporary and modern styles.
The Jack Purdon Duo- Proving to one of the finest and classiest background music for those receptions where the best tunes played at the right time can mean the best vibe, playing stylish background Jazz and Bossa Nova music to soothe your soul.
Katie Rosewood- is

an Australian guitarist, singer and songwriter creating music born of direct, emotional and bold intentions. Classically trained at the prestigious Conservatorium of Music in Sydney, she holds a degree in Classical Guitar Performance. Katie's technical acumen as a classical guitarist pits her as one to watch in the Australian scene.
Sarah Prestwidge- a young Indigenous Australian Soprano with a very versatile vocal range and an ability to sing Opera, Music Theatre and Contemporary repertoire.

Sarah is an emerging artist on the corporate stage, having been mentored by Dale Burridge and his co-stars from SMA Productions. Sarah has performed both nationally and internationally for corporate and charity events such as Corporate Clash, The Hemmes family March Into Merivale Food and Wine Festival, and the 2016 Mandarin Oriental Hotel Road Show.
Geist String Quartet- Formed in 2015, all members of the quartet are currently postgraduate students at the Sydney Conservatorium of Music. Meg Cohen (Violin) is currently undertaking her Masters at the Sydney Conservatorium of Music. Alongside her studies, she is the founder and director of the Sydney Baroque Music Festival. Sonia Wilson

(Violin) is currently a Masters of Music student at the Sydney Conservatorium of Music. Sonia completed her Bachelor of Music in Advanced Performance with First Class Honours in 2012 at the Queensland Conservatorium. Hayasa Tanaka

(Viola) is currently studying at the Sydney Conservatorium of Music, where she is currently the recipient of the Corinna D'Hage Mayer String Scholarship and the Georgina Byron Purss Scholarship. James Larsen

(Cello) completed his BMus at the Australian National University School of Music where he was awarded numerous scholarships. After his time in Canberra, James gained a place at the Australian National Academy of Music and has been lucky enough to have performed across Australia.
Solveig Hu-

Solveig recently completed her studies at the Sydney Conservatorium of Music and has had the privilege of studying under iconic names in the harp world including Louise Johnson (Principal Harp of Sydney Symphony Orchestra), Alice Giles, Jane Rosenson (Principal Harp of Australian Opera and Ballet Orchestra).
Alana & Oscar- Alana Patmore is a singer/songwriter from Sydney. Having spent her formative years honing her craft and continues to work towards enhancing and exploring her artistic talents through various competitions and musical endeavours.

Oscar Joe has been a part of the music scene for a few years, having built up an impressive array of musical accomplishments. Most recently, he was asked to write a song for the popular ABC drama "Pulse" which aired in August of 2017. Additionally, Oscar has written the music for commercials and short films.

Luxum Sax Quartet- Luxum is a newly founded saxophone quartet, comprised of classical saxophonists studying at the Sydney Conservatorium of Music. The members of the ensemble include Alice Morgan (soprano saxophone), Alisha Kinkade (alto saxophone), Sam Weller (tenor saxophone) and Tom Spencer (baritone saxophone). All members learn from Dr. Michael Duke or Christina Leonard, both internationally recognised as lead

ers in their fields.
Steph & Josh- Steph Russell, Josh Meader Jazz and contemporary guitar and vocals duo, currently studying at the Sydney Conservatorium of Music, and performing at various functions, restaurants and concerts.
The Royal String Duo- Nickalai Fedotov & Maria Fedotov have been immersed in music for over 15 years, and have gained vast experience in performance together as a duo. Their music studies began on the violin and from an early age as they enjoyed to playing and performing together. This has allowed them to develop a strong musical and communicative bond - important for the success of any musical group.
We hope the injection of new tunes added an element of the unexpected to all our community, and provided an opportunity for our budding performers to showcase their talent.