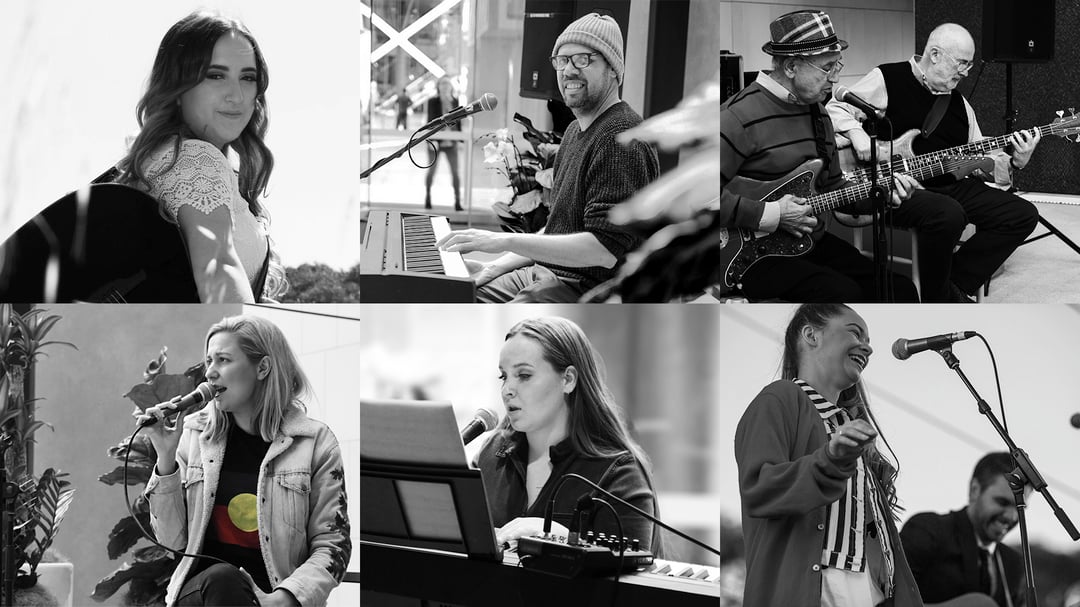 To celebrate NAIDOC Week with our community, International Towers has partnered with emerging artists to perform in the foyers of Towers Two, Three, and International House. The musicians will be playing at both morning and lunch times from Monday 8th of July, up until Friday 12th of July, where they will bring their own brand of creativity adding to the atmosphere.
Jess Beck


---

Jess is proud of her Luritja Nation heritage and the name of her indie pop band Pirra (which means 'moon' in Luritja) was suggested to her by renown music legend and Luritja man Sammy Butcher. Jess has been forging a music career which is going from strength to strength since moving up to Sydney from her family's sheep farm near Mt Gambier in SA a few years back. Jess' unique vocal stylings cross genres from rock to pop and jazz and her reputation as a consummate singer and songwriter continues to grow.

Tim Gray


---

Tim Gray is a Gumbaynggirr/Wiradjuri man who studied at Eora College in 2010-11, 2013 and 2016. He was trained in classical piano up to grade 5 and has always loved film music - his inspirations are John Willliams, Ennio Morricone, John Carpenter, and Hans Zimmer, to name a few. Tim has a reggae/ska band called Green Hand Band, in which he plays the keyboard. He came out of the emerging artists program at Gadigal/Koori Radio and was also volunteer broadcaster at Koori Radio. He sings in a group called Voices Carry, lead by Sydney choral director Tania Bowra.
Microwave Jenny


---

Tessa and Brendan, a husband-wife duo who have been performing and writing music together since their late teens describe their music as Pop/Folk/Love. Winning awards, working on film soundtracks and performing regularly at festivals has helped amass a loyal following of adoring fans and a stellar reputation among their fellow musicians. Returning to International Towers for their second NAIDOC week, they bring life and soul to our community areas.
Chloe Grant-KinChloe

---

Grant-King is a small town musician, built on roots, soul and folk music. Her music is used often as mechanism for social awareness and an emotional outlet. As an indigenous women from Darkinjung country, her lyrics and music often reflect the need for a more just society.
Johnny Nicol


---

The inimitable singer/guitarist Johnny Nicol is known as a bit of a legend in the Australian jazz scene.

Having been in the business now for over 50 years, he has worked with some of the greats, both in Australia and overseas, and has an unmistakable style that is all his own.

Joining us for a third year of NAIDOC Week along with long time friend Bill Twyman, Johnny has proved to be a favourite among our community.

Maddi Lyn


---

An Aborginial singer/songwriter who has a deep passion for Country Music. Singing to the public as early as 6 years old, now at 19 Maddi Lyn is an accomplished performer with so much in store.

She has been recognised all over the state resulting in numerous wins at many country music competitions like NSW Country Music Regional Awardsat Forbes, lllabo, South Coast and Bluebell and local winner of the Macarthur Country Music Awards. In 2015, won the Australia Country Talent Seekers Quest in Parkers and is the youngest person to ever win this competition.

With us again for a third year of NAIDOC, we have had the unique opportunity to watch this talented young woman grow and develop her musical abilities.
---
Performance Schedule
Tower Two: North Lobby
Time / Date
Monday,
8th July
Tuesday,
9th July
Wednesday,
10th July
Thursday,
11th July
Friday,
12th July
08:00 am

Johnny & Bill

12:00 pm

Microwave Jenny

Tim Gray
Tower Two: South Lobby
Time / Date
Monday,
8th July
Tuesday,
9th July
Wednesday,
10th July
Thursday,
11th July
Friday,
12th July
08:00 am

Microwave Jenny

12:00 pm

Johnny & Bill

Jess Beck

Tim Gray

Maddi-Lyn
Tower Three: South Lobby
Time / Date
Monday,
8th July
Tuesday,
9th July
Wednesday,
10th July
Thursday,
11th July
Friday,
12th July
08:00 am

Johnny & Bill

Jess Beck

Tim Gray

Maddi-Lyn

12:00 pm

Chloe Grant-King

Johnny & Bill

Microwave Jenny
International House
Time / Date
Monday,
8th July
Tuesday,
9th July
Wednesday,
10th July
Thursday,
11th July
Friday,
12th July
08:00 am

Chloe Grant-King

Tim Gray