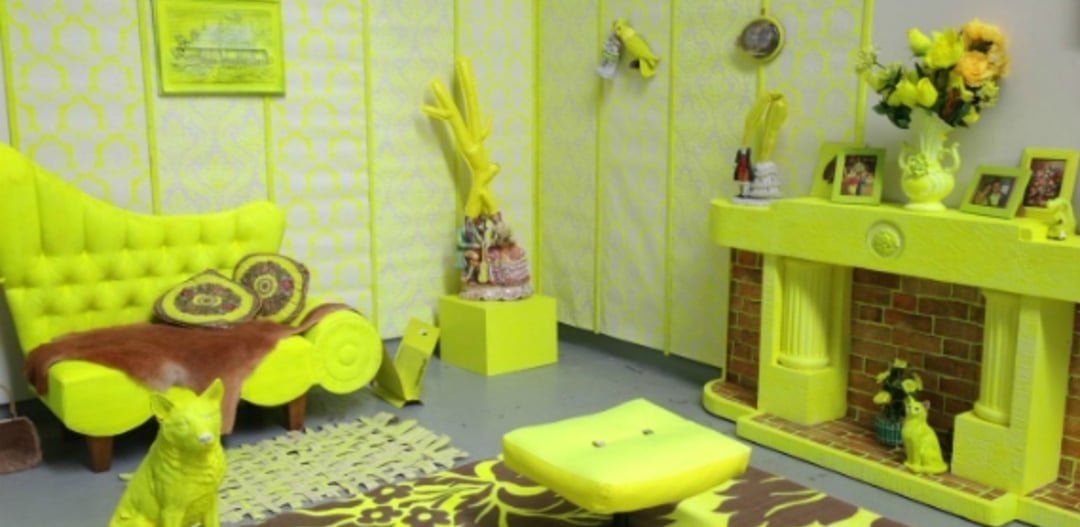 Art Installation
This was one of the most anticipated events in the Sydney art scene. Curated by Sydney Contemporary, a series of art installations and a program of performance artists occupied our public spaces from August 28 to September 22.
Art Installations
Joan Ross- 2017 Sulman Prize winner.

Joan will occupy a space along the foreshore on Wulugul Walk for a month long residency where she will invite surrounding residents and workers to interact, contribute and sit within the work.

Lara Merrett- This is not a love song (c), Mercantile Walk, 2017.

Lara interrogates the relationship between painting and its surrounding architecture with this new site-specific work. Three-dimensional painting is a relatively new departure for Merrett's practice. She utilises a ubiquitous staple of the artist's studio, the humble drop sheet or painter's cloth as material from which to create an immersive environment of colour. Merrett has used a variety of applications of paint - spraying brushing and pouring - to create a vibrant palette from which to experiment and play. Merrett has exhibited extensively internationally and nationally. Represented by Jan Murphy Gallery.

Jason Phu- Flags of lesser saints and the demons they carry, The Cutaway 2017.

Jason was the Sulman Prize and received a Freedman Foundation Travelling Scholarship in 2015 which has allowed him to base his practice between Beijing, Chiang Mai and Australia. In 2017, he was a finalist in the Ramsay Art Prize, NSW Visual Arts Emerging Fellowship, received the West Space commission for the entire gallery and is an Underbelly Arts Festival artist.

Performance Art performances
These performances were scheduled during lunchtimes from Wednesday to Friday throughout the streets in Barangaroo's commercial precinct.
Caroline Garcia- works across live performance and video through a hybridised aesthetic of cross-cultural dance, ritual practice, new media and the sampling of popular culture and colonial imagery.
Rosie Deacon- Sydney-based artist working in sculpture and installation. She aims to playfully encourage viewers to step outside their daily reality into a space of play. Her work invites the audience to participate by hopping into the pouch an oversized kangaroo sourvenir, and have their photo taken to become the performers.
Amrita Hepi- a dancer and choreographer working in performance, video and installation. A Bundjulung and Ngapuhi woman, Amrita trained at the National Aboriginal Islander Skills Development Association (NAISDA) dance college, New South Wales, Australia and Alvin Ailey American Dance School, New York. Hepi will perform two different works: Po Atarau (Now is the hour) - What crisis? and An Occupation. Both works reflecting her practice in probing intersecting ideas of authenticity, culture, tradition and 'decolonial imagination' - and questioning where this now resides withing a contemporary framework.
Eugene Choi- a performance-based artists whose practice has evolved around the physicality of constructing internal and external structures. Choi completed a Bachelor of Visual Arts Honours at Sydney College of the Arts in 2015.
Justene Williams- practicing art for over 20 years, Williams is well known for her large scale live works, video performances, installations and sculptures.

A Sonorous Body

is a new live performance work developed in collaboration with local Sydney choir for Sydney Contemporary and Barangaroo. Represented by Sarah Cottier Gallery Sydney.

| More about Sydney Contemporary |