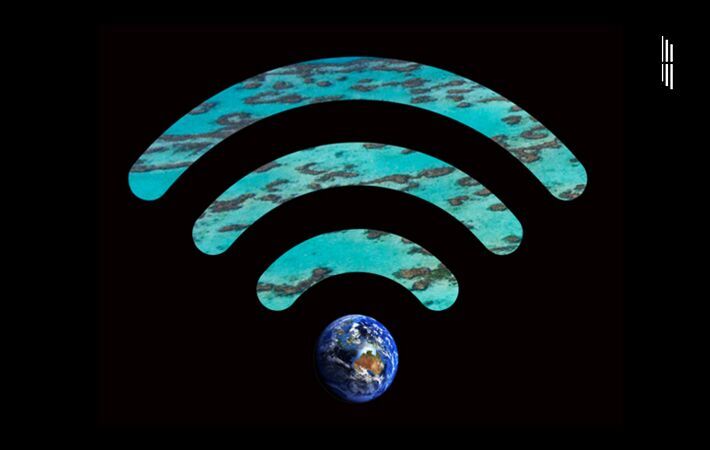 Amplify the national conversation on climate change. Together
our voices create change.
From the national treasure of the Great Barrier Reef, to our iconic koala in the forest, to the much-loved penguins of Antarctica - our unique wildlife and the natural places we love face a perilous future if we don't step up to protect our planet (and our home!) from the impacts of climate change.
So this Earth Hour, it's easy for all Australians to show they care: just switch off and #Connect2Earth and you will amplify the national conversation on climate change. Together our voices create change.

The Earth Hour 2018 #Connect2Earth artwork featured images of the unique wildlife and beautiful places that are at the forefront of climate change, with the hero creative featuring one of the seven wonders of the natural world, Australia's own Great Barrier Reef.

WWF's Earth Hour is the world's largest grassroots movement for the environment, uniting people to take action on climate change and protect the planet. Earth Hour was started by WWF-Australia in Sydney, Australia in 2007 and since then has grown to include millions of supporters in 187 countries. Supporters, landmarks, and businesses all over the world switch off their lights for one hour as a symbolic event to support climate change action.

Climate Change: What does it mean for Australia's species?

Australia is home to an amazing array of unique plants and animals. More than 80% of Australia's flowering plants, mammals, reptiles, frogs and almost 50% of our birds occur nowhere else on Earth. However, our incredible country is losing species at an unprecedented rate and climate change is a key danger.

Here are just a few examples:

Green turtles and the Great Barrier Reef
Rising sea levels are threatening Raine Island in the Great Barrier Reef, currently home to one of the world's largest nesting sites for green turtles. A recent study (supported by WWF) showed that higher temperatures in nests are causing turtle eggs to produce females. Around 99% of the green turtle population is now female, signalling a potential population crash.
Koalas
With higher average temperatures, global warming is changing the water and nitrogen content of eucalyptus leaves, the koala's only food, making them less nutritious. As a result, koalas are not getting enough water and nutrients from their natural diet and have to leave the protection of their tree-top homes, making them prone to predators and traffic.
The black-flanked rock wallaby
The black-flanked rock wallaby, which habitat includes the desert and bush in many parts of Northern and Western Australia, is highly endangered. More severe and longer droughts will result in food and habitat loss, leaving these beautiful animals with nowhere to go.

Antarctica
Antarctica is one of the fastest warming areas on the planet. The accelerated melting of Antarctica's ice sheets has contributed to global average sea levels rising, increasing the risk of coastal flooding in Australia. The melting ice is putting pressure on Antarctica's many coastal and marine species, including penguins. A third of the Adélie penguin colonies in Antarctica could disappear in less than 50 years due to the impacts of climate change on food supply of krill and fish.
Thinking of running an Earth Hour event, contact Earth Hour, who will be happy to work with you to support your event.