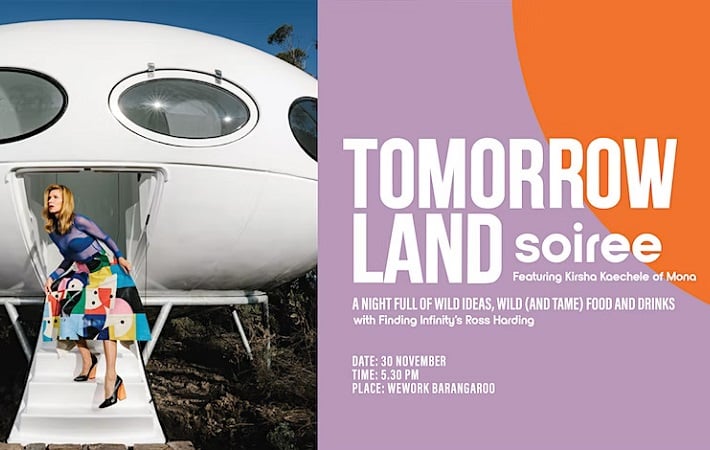 A Night Full of Wild Ideas, Wild (and Tame) Food and Drinks with Finding Infinity's Ross Harding
The Fifth Estate is holding a night of "wild ideas, wild (and tame) food" and huge ambition on Wednesday 30th November at Barangaroo, ahead of the Tomorrowland Summit.
It's the Tomorrowland Soiree, designed for a great mash up of creative, property and sustainability people who might like to work together to generate the exciting ideas we need for better community outcomes.
Special guest is Mona's Kirsha Kaechele, architect turned artist, who has come up with innovative (and sometimes outrageous) ideas in this field.
We'll also hear from Ross Harding of Finding Infinity, another highly creative person seeking to shift the agenda through culture, architecture and property development. And the fabulous Jess Miller will be MC.
There will be a competition to win one of two free passes to a cookery class by Josh Niland of Fish Butchery (valued at $300 each), and there will be samples of "unusual food" to focus on food security.

It promises to be a "fun event and full of provocations, perfect to kick start some new creative ambition for what we do next".


When: Wednesday 30 November, 5.30pm-7.30pm+

Where: WeWork, 1 Sussex Street, Barangaroo, Sydney