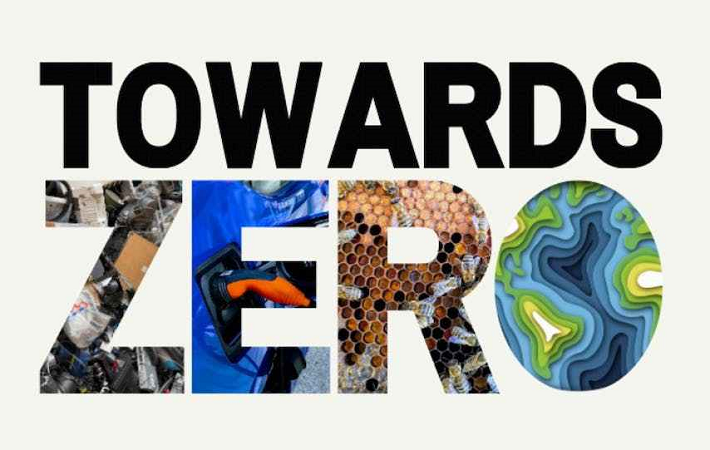 September is our month of sustainability
It's a new month, a new season and we're making it our official month of Sustainability - at least for 2022.
So, with that in mind, alongside our Sustainability Summit, we're bringing you Towards Zero. If you're all for the talks from the Summit, then get ready for the action because we'll be hosting a series of exciting events, content and competitions.
Together, we can make simple changes in attitude and action, that can form long-lasting, impactful change!
Check out the list of what's coming and get on board.
Lendlease's Inaugural Customer Summit
Lendlease is excited to invite you to our inaugural Virtual Customer Summit on sustainability, taking place between the 5th and 8th of September. Your online access will give you the flexibility
to join the sessions that you are most interested in.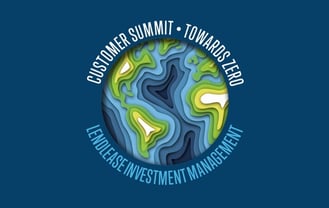 If you would like to join the conversation, don't delay and register right now - there are only 30 online spaces available to attend this virtual summit and we expect our sustainability-minded tenant partners to accept the invitation fast.
You can expect a mix of engaging in-the-know speakers and events to discuss the topic:
How might we collectively accelerate and simplify our transition to zero emissions through real estate?
Experience Eco-Virtual Reality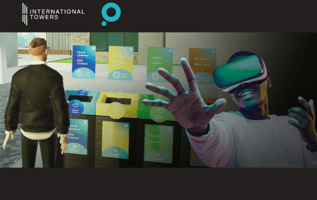 Don't miss the return of our much-loved Virtual Reality waste game, where you can put on the VR goggles and fine tune your sustainability skills.
Environmental awareness is always in the air at International Towers, never more so than recently with big events like national Sustainability Week and our own Customer Summit on sustainability taking place.
Something else special happening this Thursday is the return by popular demand of our much-loved Virtual Reality waste game - courtesy of our partners Lendlease Podium - where you can enter the world of VR to brush up on your knowledge about what waste needs to go where in a more sustainable future.
This leading-edge Virtual Reality technology takes two players at any one time, it's lots of fun, and we follow COVID-safe procedures - using fully UV-sanitised headsets and brand new industry-grade headset protective masks for every new player.
The details:
What:
Virtual Reality 'Do you know your waste?' game
When:
Thursday 8th September, 11.30am to 3.30pm
Where:
Tower Three South Lobby
How:
No registration required, just turn up and play
We'd love to know how you get on, let us know on our social media channels.
CandleXChange - Pour your own Candle
As part of our Towards Zero campaign, we've partnered with CandleXchange to help you to engage with sustainability in a unique way and contribute to the circular economy. On Tuesday, 13 September Tower Two South Lobby and Thursday 15 September Tower Three, South Lobby. You can register to participate in a 15-minute candle pouring session to fill a candle vessel. Hurry and book now as spots are limited.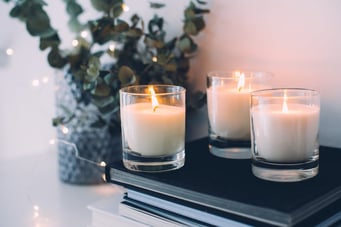 While you can pour a candle you can also bring in your pre-loved vessels to have them cleaned and donated to women's refuge.
Please note, we won't be able to refill your candle vessels on the day as all pre-loved candle vessels will be sent away to be cleaned and donated to a good cause.
Candles will be ready for collection after 4pm (on the day) and unfortunately cannot be stored overnight. Candles not collected on the day will be donated to charity. Reach out to @IntlTowers or @internationaltower for any enquiries.
Tower

Two South Lobby - Tuesday 13th September between 8

am and 1pm

Tower Three South Lobby - Thursday 15th September between 8

am and 1pm
Booking Policy: Maximum of 1 Person per booking
Sustainability Market and giveaways
"As consumers, we have so much power to change the world by just being careful in what we buy" - Emma Watson.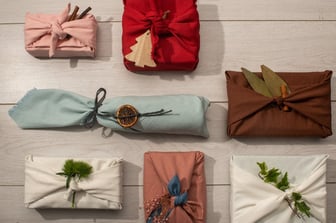 On Tuesday 13th September and Thursday 15th September, we're bringing you a pop-up market featuring sustainable products only. We want to make it as easy as possible for our community to stock up on products that have a lesser impact on the environment.
By choosing sustainable goods, you're not only saving natural resources but reducing your carbon emissions.
Join us in the Lobby, where we'll also be giving away some top-secret goodies.
Tower

Two South Lobby - Tuesday 13th September between 10

am and 2pm

Tower Three South Lobby - Thursday 15th September between 10

am and 2pm
The Upcycle Swap
Let's reuse and repurpose and help create a circular economy with our unwanted or no-longer-needed items. The Upcycle Swap will be a place to trade books, clothes,
music, homewares - anything that you'd be proud to own or give
.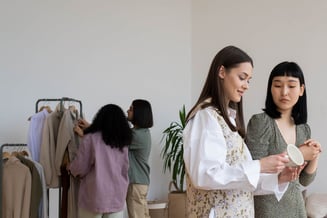 We encourage you to gift an item or take an item as a gift.
Our focus is to find a new home for like new items that are otherwise left unused.
Please remember: gift new/like new items only, something you would be happy to give/receive from a friend or loved one, also:
1. No perishable items
2. No damaged items
3. No large oversized items, that require multiple people to move
Let's cut down on wastage by finding a new home for unwanted/unused items.
We will be collecting any items which have not been swapped at the end of the week and we will donate to the most appropriate charity depending on what is remaining eg. if clothing this will be Dress for Success, etc
Tower

Two and Three South Lobby - Monday 19th September - Friday 23rd September - adjacent to the Toby's Estate cafes.
Unwind to Zero - Unplug & Unwind in the wilderness
We are giving you the chance to win a two-night stay at an Unyoked Cabin. These cabins are consciously constructed and are purposefully situated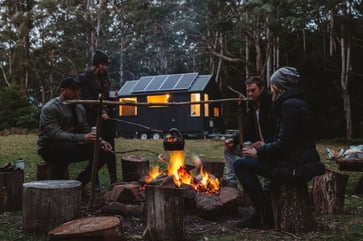 in serene and unique natural locations to enhance your well-being and mental clarity.
Some of the cabins are even pet-friendly, so your pampered pooch could score a vacay too!
And to get you there, we'll give you the keys to an Electric Vehicle, courtesy of Origin Energy, for the weekend!
To be eligible, participants:
be or become a member of the International Towers Partner Portal; and
have registered to attend either:

the Sustainability Summit: Face-to-face or Virtual; or
registered to the CandleXchange event; or
registered to the EV Test drive event
Terms and conditions below.
Unyoked was launched by twin brothers Chris and Cameron Grant in 2016. They started this project as an escape from their fast-paced city life. Their tiny cabins are architecturally designed to get you out of the city and unwind in nature or on private lands in the countryside. They're a global nature company that gives you access to high-quality outdoor experiences to wander in the wilderness.
Origin Zero is a customer-focused and market-leading energy provider, facilitating holistic and engaging energy solutions for businesses. They're committed to helping lead the transition to a low carbon future by progressively decarbonising their own business and investing in technologies, tools and data to help their customers do the same.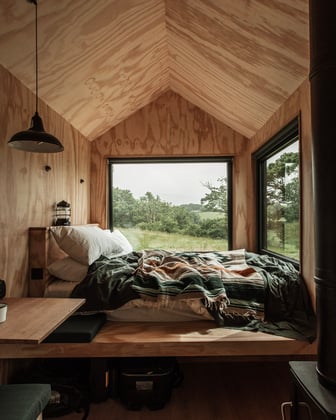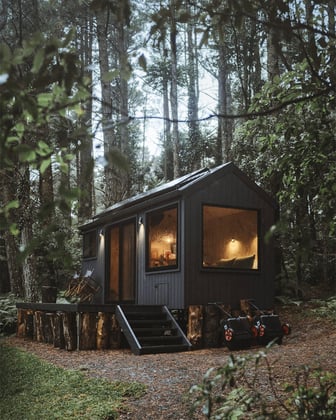 Photography: Courtesy of Unyoked
It's Free EV Drive Time At The Towers - SOLD OUT
Something special is rolling, smoothly and silently, into International Towers this Wednesday and Thursday. Two shiny marvels of engineering, technology and design – a Tesla Model 3 and a BMW iX, two of the world's best electric vehicles (EVs).

And if you want to take either of these impressive EVs for spin, register below then you can collect the keys from the Tower Two North lobby between 10am and 4pm.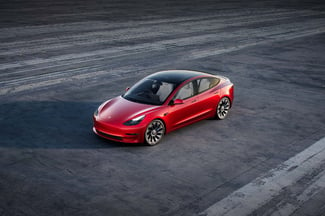 Simply listen to some driving hints and frequently asked questions, sign the waiver, present licenses for anyone who's driving, and you're off for 1 hour of fun, humming around this magnificent city in a magnificently sustainable vehicle.


----
TERMS AND CONDITIONS - Unwind to Zero Competition
In line with The Community Gaming Act 2018 and the Community Gaming Regulation 2020 started on 1 July 2020, we outline the "rules" of this competition as follows. When you enter one of our competitions, we will assume that you have read these rules and that you agree to them.
The competition is open to members of the International Towers Partner Portal who have engaged with one of our sustainability events. Not a member? If you work in International Towers Tower 2 or Tower 3 or International House you can

join here

.

The closing date is Thursday, 22 September 5PM, and International Towers reserves the right to amend the competition end date at any time.
We'll draw one winner at random and announce it soon after the closing date and time. The International Towers team will notify the winners via phone call or email.
By entering the competition, the winner agrees to participate in any such promotional activity and material as International Towers may require.
No part of a prize is exchangeable for cash or any other prize. Value of giveaway is $506.
If an advertised prize is not available, we reserve the right to offer an alternative prize of equal or greater value.
Each competition will have clear guidelines and or instructions on how to compete or register to win.
Only one entry per person unless otherwise stated.
Incorrectly completed entries will be disqualified.
Distribution and or collection of prizes will be coordinated by Concierge or, in some instances, by the Partnership Manager.
International Towers reserves the right to amend these rules at any time. We may also create rules which will apply to a specific competition only. If we do this, then we will publish the amended competition rules and/or specific competition rules on the relevant competition page.