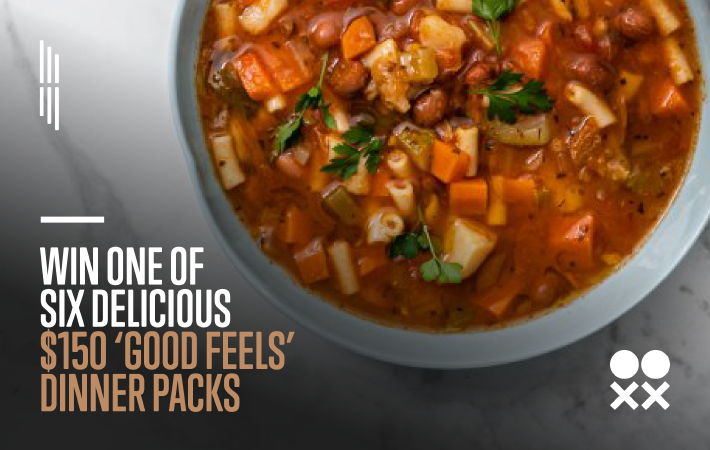 Two Good Co are back with six more delicious 'Good Feels' dinner packs worth $150 to win - to enter, jump onto Instagram and click.
Update: Winners Announced

Well done to the four winners confirmed so far in our recent competition for six decadent 'Good Feels' dinner packs worth 150 bucks. Jessica, Sarah and Stephanie at KPMG, and Jane at Westpac. There are two winners still out there waiting to be confirmed.
That's right, our friends at iconic Sydney caterer Two Good Co are back by popular demand, with six more of their decadent 'Good Feels' dinner packs worth $150 each up for grabs in a brand new competition.

Simply follow the instructions below and you could be enjoying one of the best home dinners of your life. If you favour a savoury dish watch out for their mouth-watering "Marinastrone", a traditional family soup recipe, or if you have a sweet tooth you can look forward to their salted dark chocolate and wattleseed fudge brownies.

To enter for your chance to win one six $150 dinner packs, you must:
1. Be or become a member of the International Towers Partner Portal
2. Like our Two Good Co. post on Instagram
3. Tag a colleague in our Two Good Co. post (get one entry for every friend you tag)

The competition runs until Thursday 14th October at 12.00pm, then we'll pick six entries at random and announce the winners soon after.

By entering you will be contributing towards the Two Good cause of helping vulnerable women at risk of homelessness. Read more about Two Good's charity work and browse the delicious product range at their website. Here's wishing you the best of luck in winning the best home dinner of your life.
Terms and conditions
In line with The Community Gaming Act 2018 and the Community Gaming Regulation 2020 started on 1 July 2020, we outline the "rules" of this competition as follows. When you enter one of our competitions, we will assume that you have read these rules and that you agree to them.
The competition is open to members of the International Towers Partner Portal only. Not a member? If you work in International Towers Tower 2 or Tower 3 or International House you can join here.
The competition closes on Thursday 14th October at 12.00pm and International Towers reserves the right to amend the competition end date at any time.
Winners will be chosen at random and then notified by the International Towers team via the email address they have signed up to Partner Portal.
By entering the competition, the winner agrees to participate in any such promotional activity and material as International Towers may require.

There are six prizes consisting of dinner packs at the value of $150.

If an advertised prize is not available, we reserve the right to offer an alternative prize of equal or greater value.
Each competition will have clear guidelines and or instructions on how to compete or register to win.
Incorrectly completed entries will be disqualified.
This competition is brought to you by International Towers and has no affiliation with, association to, authorisation or endorsement by Instagram or any other social media platform.
Distribution and or collection of prizes will be coordinated by the International Towers Management Team.
International Towers reserves the right to amend these rules at any time. International Towers may also create rules which will apply to a specific competition only. If we do this, then we will publish the amended competition rules and/or specific competition rules on the relevant competition page.

To receive this prize if you win, you must live, or supply a delivery address, in Greater Sydney.