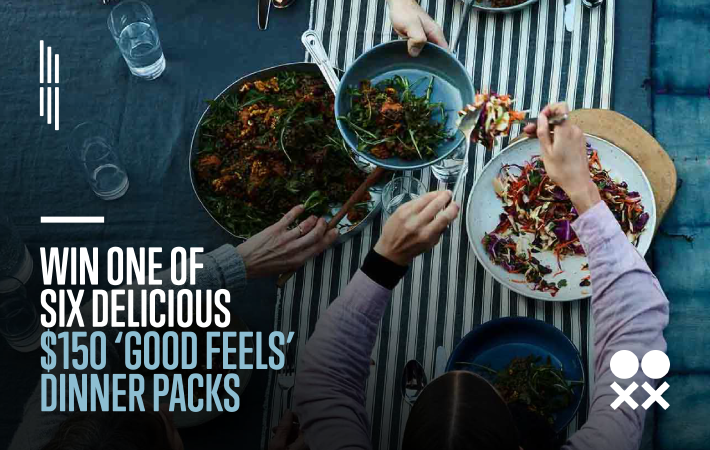 Tell us about your signature dish or favourite home food experience and you could win one of
SIX

$150 delicious 'Good Feels' dinner packs

Whether you normally cook dinner yourself, order delivery, or a bit of both, we think you and your bank balance deserve a night off. So we've put together a very tasty prize pool of no less than six $150 'Good Feels' dinner packs from iconic Sydney caterer Two Good Co.

Try their mouth-watering "Marinastrone", a traditional family soup recipe, or their salted dark chocolate and wattleseed fudge brownies, Two Good will make you lick your lips in anticipation of an awesome night off from spending time or money on dinner.

Simply tell us in 25 words or less about:
Your favourite signature dish that you love to make at home - whether that's a six-hour cuisine masterpiece or a simple sandwich – and tell us why it rocks your world.
To enter you must:
1. Be or become a member of the International Towers Partner Portal
2. Like our Two Good Co. post on Facebook, Instagram, Twitter or LinkedIn
3. Tag a colleague and/or share our Two Good Co. post
4. Add a comment telling us in 25 words or less about your signature dish or favourite home food

The competition runs from Friday 13th August and has been extended to now end on Wednesday 1st September 2021 at 11:59 pm, then we will pick our favourite entries and announce the winners soon after.
Once entered you could receive one of six delicious $150 'Good Feels' dinner packs delivered to your door anywhere in Greater Sydney, and at the same time you will be contributing towards the Two Good cause of helping vulnerable women at risk of homelessness. Read more about Two Good's charity work and browse the yummy product range at their website.
Here's wishing you the best of luck in winning the delicious night off you deserve.


Terms and Conditions
In line with The Community Gaming Act 2018 and the Community Gaming Regulation 2020 started on 1 July 2020, we outline the "rules" of this competition as follows. When you enter one of our competitions, we will assume that you have read these rules and that you agree to them.
The competition is open to members of the International Towers Partner Portal only. Not a member? If you work in International Towers Tower 2 or Tower 3 or International House you can join here.

Only one entry per person unless otherwise stated.




The closing date is as specified in each competition, and International Towers reserves the right to amend the competition end date at any time.




By entering the competition, the winner agrees to participate in any such promotional activity and material as International Towers may require.

No part of a prize is exchangeable for cash or any other prize.




There are six prizes consisting of dinner packs at the value of $150.

If an advertised prize is not available, we reserve the right to offer an alternative prize of equal or greater value.

Each competition will have clear guidelines and or instructions on how to compete or register to win.

Six winners will be selected by the International Towers Management team.

This competition is brought to you by International Towers and has no affiliation with, association to, authorisation or endorsement by Facebook, Twitter, Instagram, LinkedIn, or any of their subsidiaries, or any other social media channel.

International Towers reserves the right to amend these rules at any time. We may also create rules which will apply to a specific competition only. If we do this, then we will publish the amended competition rules and/or specific competition rules on the relevant competition page.