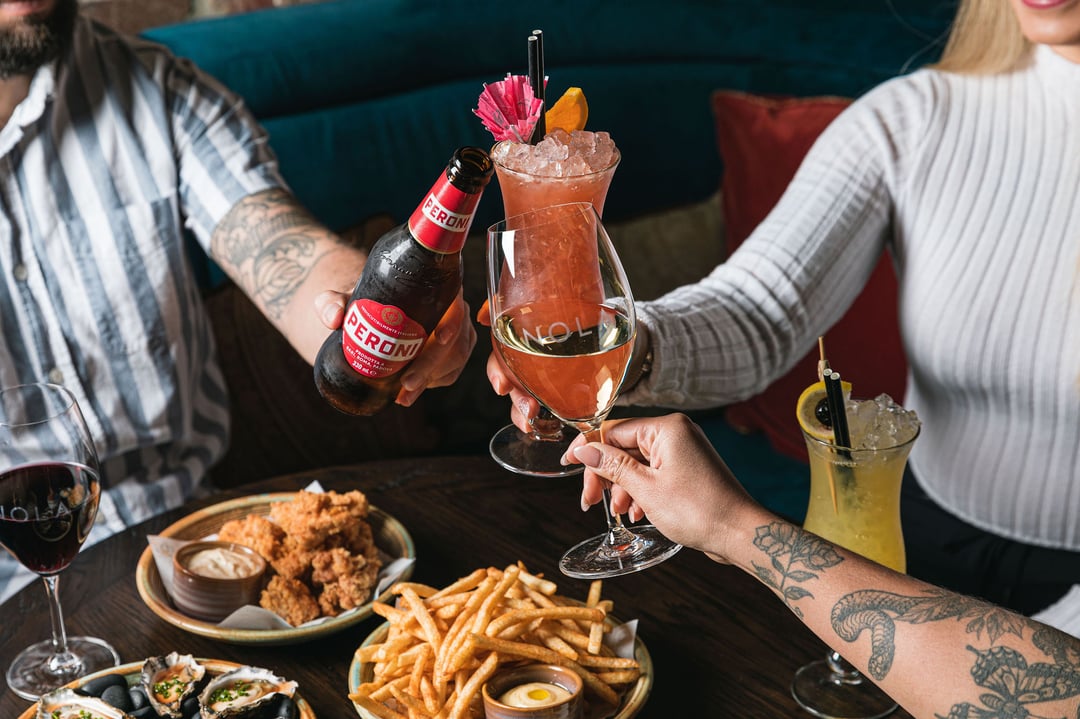 Choose from a tantalizing array of Vivid inspired of foodie specials and cocktails
Choose from a tantalizing array of Vivid inspired foodie specials and themed cocktails, designed to awaken your senses and keep you recharged as you explore the illuminated trail of installations throughout Barangaroo. For those who like to keep things moving there are plenty of grab and go options, as well as dine-in specials for those who prefer to relax and take in the crowds.

Come down and follow an illuminated trail that will take you through the stunning natural surrounds of Barangaroo Reserve and along the picturesque Wulugul Walk and into a foodie paradise.
From 26 May - 17 June Barangaroo will be home to Vivid House, an immersive 360 experience featuring four awe-inspiring artworks Vivid Fire Kitchen, which stars a selection of Sydney's hottest dining, drink and entertainment, as well a series of stunning installations that will take you on a journey through the elements. Read more about the 2023 Vivid installations here.

Nola
Enjoy the warmth of Southern hospitality with a Vivid Sydney Happy Hour from Wednesday to Saturday 4pm–6pm. Offer includes: $12 Cyclone cocktails, $12 Hurricane cocktails, $7 House spirits, $8 House wines, $5 House beers, $10 Fried chicken
| Book Now |

Love.Fish
Dive into your Vivid Sydney experience with a delicious seafood dining experience in a unique, waterfront setting. Offer includes: Between 5pm-6.30pm, enjoy a seafood platter and a bottle of Atlas Clare Valley Riesling or rose for $100 (for 2 pax)
| Book Now |

Sax
Before or after experiencing the vibrant lights, satisfy your appetite with vivid-inspired cocktails, nibbles and live music at SAX. SAX will be offering a complimentary charcuterie board inclusive of double cream Brie and cured meats for every bottle of champagne or wine purchased per table.
| Book Now |

The Butcher's Block
The Butcher's Block combines their love of organic, locally sourced produce and efficient, professional service, with an emphasis on passion and quality. Offer includes: Tropical Sunset Cocktail jug $30 - A tantalising combination of vodka, passionfruit, strawberry and cranberry juice
| Book Now |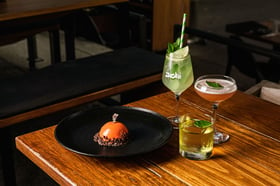 Zushi
Dine at Zushi and sip on cocktail specials whilst you take in the Vivid crowds along the waterfront. Vivid specials include - Wasabi Negroni/shima-groni $21, Charlie bramble $18, and Yuzu Dome Mousse Cake (Yuzu custard, white chocolate mousse, sponge cake, yuzu glaze and cacao nibs)
| Book Now |

Winghaus
Choose from a hearty line up of American-inspired chicken wings, big-hitting burgers and fried onion wings or get into the spirit with a light up frozen cocktail! Offers include - Vivid family feast $89 : two burgers, two servings of chips, twenty chicken wings & one basket of onion wings OR Vivid burger feast $89: four burgers, four servings of chips & four soft drinks. Both offers are available for dine-in or takeaway.
| Book Now |

Ume Burger
Work your way through Japanese-inspired burgers, a selection of sides, Fried chicken and more. Vivid offer includes: Potato gems $7 Potato croquettes $7 Japanese Fried chicken $7 Hot yuzu drink with honey & ginger $6.
| Book Now |

Torotoro Ramen
Get in the festival spirit and wash down a warm ramen with a Vivid inspired cocktail special.
| Book Now |

Rekōdo
Located on level 1 of Barangaroo House, REKŌDO will up the tempo, with renowned DJ's Frank Booker (NZ), DJ Jnett, and Queen Bee DJs (plus more!). Enjoy a specially curated Vivid Sydney menu and cocktail to match whilst you take in the tunes.
| Book Now |

Smoke Rooftop
Ascend the stairs of Barangaroo House and onto Smoke Rooftop to take in the view of the Vivid Sydney lights with a cocktail in hand. Smoke's Vivid Sydney cocktail menu champions zero-waste principles, repurposing kitchen off-cuts to create exceptional ingredients that shine in each drink.
| Book Now |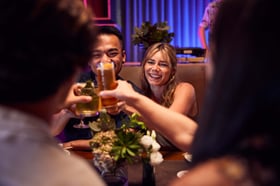 House Bar
In collaboration with Bombay Pressé, House Bar (ground level of Barangaroo House) will transform into a lemon-inspired oasis, offering three specially curated citrusy cocktails. They'll also be offering a Vivid Sydney kids menu every Sunday, featuring light-up surprises to enhance the magic of Vivid.
| Book Now |
For further information about Vivid Sydney, visit the Vivid Sydney Frequently Asked Questions page.