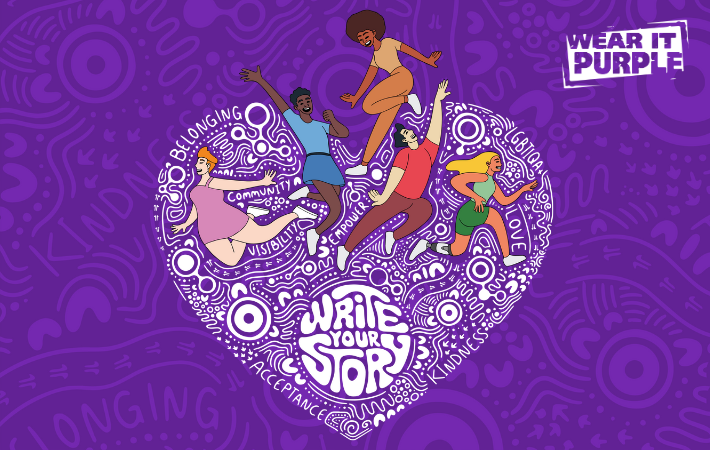 "Write Your Story" is the empowering message of Wear it Purple Day 2023, motivating LGBTQIA+ youth.
On Friday 25 August 2023, LGBTQIA+ youth and allies will unite in record numbers to celebrate 'Wear It Purple Day' as thousands of schools, community organisations, universities, and workplaces prepare to celebrate nationwide.
By wearing purple, Australians demonstrate to rainbow young people that they are seen, supported and respected, acknowledging all have the right to be proud of who they are and who they are becoming.
Originally founded by students in response to global stories of teenagers taking their own lives due to bullying and harassment, Wear it Purple Day has become an international movement of celebration and support.
This year's theme, "Write Your Story", is created by Wear It Purple's Youth Action Council (YAC) to give voice to growing rhetoric in the LGBTQIA+ youth community around the importance of personal expression and individuality.
About the "Write Your Story" 2023 theme:
Visibility – 'Write your Story' promotes Visibility – allowing LGBTQIA+ youth to see themselves represented in the world around them. Crucial for those who may feel isolated, marginalised, or uncertain of their place in the world, as it can help to validate their experiences and provide a sense of belonging through expression and connection.
Community – 'Write your Story' promotes Community – through sharing a connection to others who have had similar experiences and create a sense of belonging that builds community for our LGBTQIA+ youth.
Acceptance –'Write your Story' promotes Acceptance – Sharing lived experiences can also promote acceptance by challenging negative stereotypes and fostering empathy. When non-LGBTQIA+ people hear about the experiences of LGBTQIA+ youth, it can help to humanise their struggles, their successes, their challenges and their joy. This leads to great understanding, acceptance, and support, all crucial for safety and wellbeing.
"Wear It Purple" would love any donations to help them in their work.


About Wear It Purple
Wear It Purple is a volunteer-led and run organisation that focuses on creating safe spaces for rainbow youth in schools, universities, workplaces and public spaces. It was founded in 2010 by students making a stand against the spike in global stories of teenagers taking their own lives due to bullying and harassment. These real stories, real responses and real heartbreak resulted from a lack of acceptance, a lack of community, support, and safety due to their sexuality or gender identity.
One of Wear It Purple's priorities is to assist our schools, universities, and community partners to run events for Wear It Purple Day. We provide free celebration kits and resources for them to do so. Corporate activity, in kind donations and merchandise sold also to support this effort.
And whilst Wear It Purple Day is the main event on our calendar, the volunteer organisation strives 365 days of the year to bring youth issues to light through supporting the arts, community, and education initiatives. We research, build, and provide free resources and thought leadership to schools seeking an inclusive culture. And join forces with other amazing community organisations to ensure the conversation on LGBTQIA+ inclusion continues to move forward no matter the political climate.
Watch this video to see what "Wear It Purple" means to your Barangaroo neighbours