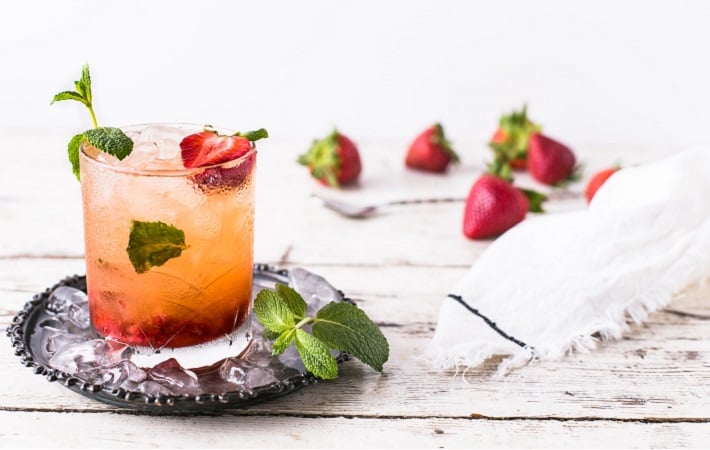 Win one of four decadent Movie Night and Cocktail Trilogy Packs from our friends at Golden Age Cinema – stay home with style
You're in our hearts and in our minds as this lockdown continues, and we're always on the lookout for fun, stylish ways to help add a lift to your downtime at home.
Congratulations to our lucky competition winners:
Stephane from Lendlease
Anna from Green Building Council of Australia
Clare from Lendlease
Charlotte from KPMG
This competition is now closed.
As the name suggests this 'Cocktail Trilogy Pack' from our friends at Golden Age Cinema contains no less than three delightful double cocktails, along with an awesome access pass to Golden Age's highly curated 'Movie Night' streaming platform – which has the latest releases and greatest cult classics awaiting your viewing pleasure.

The delicious 'Bottle Rocket' cocktails are to be tasted to be believed, winners will receive:
Double Yuzu Margarita (200ml)
Double Popcorn Old Fashioned (200ml)
Double Spiced Berry Negroni (200ml)
That's enough to share with your partner or housemate – or a superb party for one.

There are four Movie Night and Cocktail Trilogy Packs worth $99 up for grabs in this competition, here's what you need to do to enter:
To enter you must be or become a member of the International Towers Partner Portal, and be working at International Towers Tower Two, Tower Three or International House.
Like our Instagram post.
Tag friends on the Instagram post who you'd love a night out with when lockdown lifts - you get one entry to win for every friend you tag.
The competition closes at 12.00pm on Thursday 23rd September, then we'll draw four winners and announce them soon after.

Get your entry in today… and get ready for the best movie night-in you ever had.

Terms and conditions
In line with The Community Gaming Act 2018 and the Community Gaming Regulation 2020 started on 1 July 2020, we outline the "rules" of this competition as follows. When you enter one of our competitions, we will assume that you have read these rules and that you agree to them.
The competition is open to members of the International Towers Partner Portal only. Not a member? If you work in International Towers Tower 2 or Tower 3 or International House you can

join here.
The competition closes at 12.00pm on Thursday 23rd September and International Towers reserves the right to amend the competition end date at any time.
Winners will be chosen at random and then notified by the International Towers team via the email address they have signed up to Partner Portal.
By entering the competition, the winner agrees to participate in any such promotional activity and material as International Towers may require.

There are four prizes consisting of a Cocktail Trilogy Pack with movie pass at the value of $99 each. No part of a prize is exchangeable for cash or any other prize.

If an advertised prize is not available, we reserve the right to offer an alternative prize of equal or greater value.
Each competition will have clear guidelines and or instructions on how to compete or register to win.
Incorrectly completed entries will be disqualified.
This competition is brought to you by International Towers and has no affiliation with, association to, authorisation or endorsement by Instagram or any other social media platform.
Distribution and or collection of prizes will be coordinated by the International Towers Management Team.
International Towers reserves the right to amend these rules at any time. International Towers may also create rules which will apply to a specific competition only. If we do this, then we will publish the amended competition rules and/or specific competition rules on the relevant competition page.