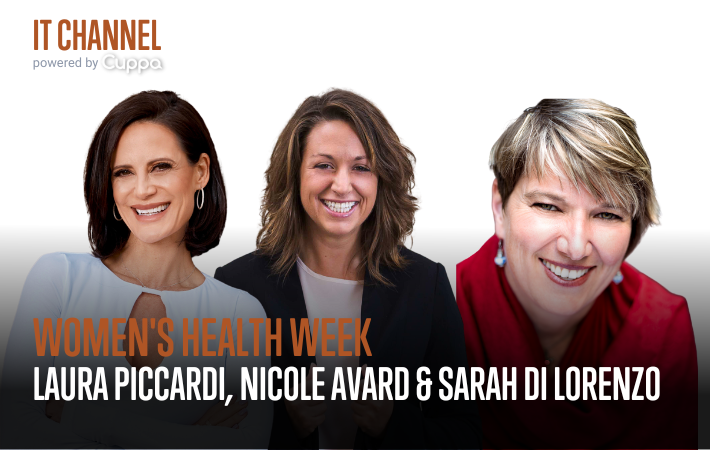 Watch our Women's Health Week conversation where we talk about 'Healthy Ageing'
This panel conversation with Cuppa host,
Laura Piccardi
and
Dr Nicole Avard
, General Practitioner and Integrative Medicine Practitioner, and
Sarah Di Lorenzo
, Clinical Nutritionist talked about important topic areas like menopause, nutrition and body images as we focus on healthy ageing this 'Womens Health Week'.
Duration: 45 Minutes
To watch this session please sign in or register for the Partner Portal.
Learn about important topics like healthy ageing, menopause, and mental health, and gain practical tools and strategies to support their wellbeing.
More About Our Panel:
Sarah Di Lorenzo is resident clinical nutritionist on the Seven Network's Sunrise and Weekend Sunrise and the bestselling author of three books – soon to be four – for Simon & Schuster Australia. Her trilogy of books – The 10:10 Diet, The 10:10 Diet Recipe Book and The 10:10 Kickstart – have sold 100,000 copies since 2022, making her one of Australia's top-selling authors.
Outside of her television and publishing roles, she runs a private clinic in Woollahra, Sydney, Australia, where she treats and consults on all aspects of nutrition from weight loss to chronic disease.
To purchase Sarah's book then you can do so here: http://booktopia.kh4ffx.net/AW3b4D
Dr Nicole Avard has worked as a General Practitioner for over 20 years and has a special interest in Integrative Medicine. She is the Principal GP at her owner operated General Practice clinic, Next Practice, on the Central Coast of NSW. She has helped 1000's of women across all age groups and this has honed her wealth of experience in understanding the patient journey and meeting people where they are at. She is a member of the Australian Menopause Society.
Dr Avard harbors a keen desire for education and academic research. She plays a pivotal role in mentoring and educating the future doctors of General Practice and sits on the working group for the Royal Australian College of General Practice Specific Interest Group for Integrative Medicine. She is also a Clinical Adjunct with the National Institute of Complementary Medicine with multiple published papers.
Laura Piccardi is a speaker, content creator and author of bestselling book, Unfaked.
She combines her years of experience as a stress management expert and performance coach, with her English wit and satirical skits to deliver unique experiences that aim to change the way professionals and entrepreneurs do business and life, so they can achieve success without working themselves into the ground.
Laura's digital media company, Uppy, delivers engaging, fun and thought-provoking content that challenges perceptions and inspires action.
Her vision is to help reduce the rates of lifestyle related disease and levels of distress that are rapidly increasingly as a result of our busy and pressured lives.