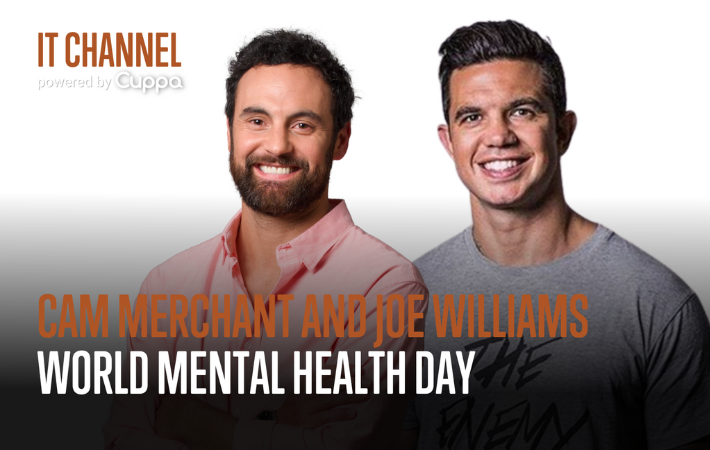 Join us for World Mental Health Day 2023, Cuppa host, Cam Merchant will sit down with our guest former NRL player and proud Indigenous Man, Joe Williams.

Join Cam and Joe for part storytelling and part actionable advice that you can adopt either in your own life or to help with those you work with, right away.
Date: Tuesday 10th October
Time: 12.30pm
Duration: 45 Minutes



What is World Mental Health Day?
World Mental Health Day, observed on October 10th each year, aims to raise awareness about mental health, reduce stigma, and promote mental well-being. It involves various activities and campaigns worldwide to address mental health challenges and focuses on specific themes each year, such as depression or suicide prevention. The day encourages understanding, resource-sharing, and seeking help when needed.
| Visit https://www.who.int/campaigns/world-mental-health-day to read more |

More about Joe Williams
Joe is a proud Wiradjuri/Wolgalu, First Nation Aboriginal man born in Cowra and raised in Wagga NSW, Australia. Joe played in the National Rugby League for South Sydney Rabbitohs, Penrith Panthers and Canterbury Bulldogs before switching to professional Boxing in 2009. Joe is a 2x WBF World Jnr Welterweight champion and won a WBC Asia Continental Title.

Although forging a successful professional sporting career, Joe battled the majority of his life with suicidal ideation and bipolar disorder. After a suicide attempt in 2012, Joe felt his purpose was to help people who struggle with mental illness.

Through customised workshops, Joe talks of dealing with adversities, struggles, resilience, addiction, connection, emotional wellbeing & healing trauma in schools, communities, correctional services, sporting clubs and workplaces. Now a published author, Joe's autobiography 'Defying The Enemy Within' shares not only his life's story but offer's practical tools anyone can implement into their lives to improve and maintain their emotional wellbeing.