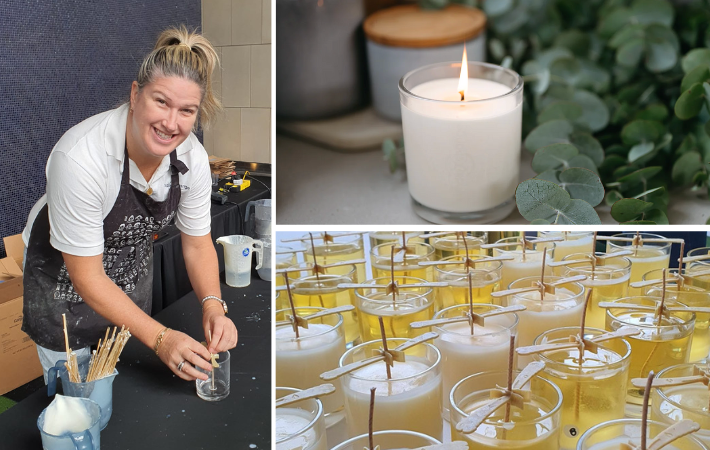 Join us at Tower 3 on Friday 16 June for a CandleXchange workshop and for a chance to win a gift from our friends at Huskee and Banish.
World Refill Day is a global campaign to prevent plastic pollution and help people live with less waste - calling on businesses, brands and governments to join the refill and reuse revolution and help make single-use plastic a thing of the past.

The environment is everything at International Towers and we couldn't agree more. So throughout World Refill Day on 16 June, we'll be doing fun things which give you a chance to do your bit and also win a wonderfully environmentally friendly prize.

All the candle action and special prize giveaways take place from 8am - 1pm Tower Three South Lobby.

To book your spot to pour your candle sign in or register for the Partner Portal below.


Here are some more details:
Hands-On Candle Pouring, 8am to 10am

- All spots have SOLD OUT
Each participant will have 15 minutes to pour their candle. Your homemade candle will take a few hours to set, we'll hold onto it until it's ready and you can collect it after 4pm on the day.



Hands-On Candle Pouring, 10:15am to 12 Midday -

Until candles are exhausted.
We will be accepting walk-ins during this period, so make sure you arrive early so you don't miss out. Your homemade candle will also take a few hours to set, you can collect it after 4pm.


Donate your old candle containers
Bring your burnt-out candle containers, give them to our partners at the Candle Exchange display in the lobby, they'll refill them and donate gorgeous nearly-new candles to women's refuge shelters. Read more about this here.



Visit our Huskee and Banish pop-up stalls in Tower Three lobby




We will also have special prizes on offer throughout the morning from our sustainable partners Huskee and Banish.




Huskee.
Huskee is a sustainable coffee cup brand that uses recycled coffee husks to create eco-friendly cups. They focus on reducing waste in the coffee industry and promoting sustainable practices.
With every HuskeeCup purchased, you'll receive a FREE coffee at FOUR local cafes, Toby's Estate Campos Coffee, Bourke Street Bakery and South Coffee & Food.
PLUS they'll be giving away a prize every hour with all entries being pooled back in to win a Flair Espresso Machine Bundle worth $294! What could be better? Save our planet and win a prize at the same time!
Hourly prizes include:
9am - Huskee T-shirt
10am - HuskeeCup 8oz SUP
11am - HuskeeRenew Espresso Set Smoke or Amber
12noon - Good Food and Wine Tickets
Major Prize
1pm - Flair Espresso Maker, Flair Fitted Carrying Case, Flair Stainless Steel Tamper - $294
Banish
Stay tuned for more thrilling prize details as we draw closer to the event date. Be sure to check this page regularly and keep an eye on the International Towers' social channels for the latest updates. Exciting surprises await.
How to get involved?

This World Refill Day, choose to reuse and join millions of people around the world taking action to reduce single-use plastic.

What you can do:

1. Make small changes and choose to reuse. Carry your reusable water bottle or coffee cup, try a zero-waste shop or find packaging free groceries or switch to loose fruit & veg.

2. Inspire change. Join the conversation on social media and tell the world WHY you're taking action to prevent plastic pollution by choosing to reuse this #WorldRefillDay.

3. Use your voice. Call out the biggest brands & polluters on social media and let them know we need them to act now. Use our toolkit (coming soon)

4. Download the free Refill app to find thousands of places to eat, drink and shop with less waste www.refill.org.uk.